The Billy Graham Library in Charlotte, North Carolina is meant to be an ongoing crusade that will continue for many generations. Situated on the same property as the Billy Graham Evangelistic Association, the library opened in 2007 and is neither a museum nor a memorial. Rather, it is an extension of the evangelistic ministry that Graham carried out for so many years. The building, notable for its giant cross-shaped door, is meant to expose visitors to the gospel of Jesus Christ. Among the many items it houses is an unusual and fascinating relic of Graham's famed 1957 New York Crusade—a prayer wheel. And this, Billy Graham's prayer wheel, is the next (and second to last) of the twenty-five objects through which we are exploring the history of Christianity.
Billy Graham played a crucial role in the emergence and definition of Evangelicalism as we know it today. Evangelicalism emerged as a reaction to the belligerent Fundamentalists whose desire for doctrinal purity led them to separate from other Christians. Where Fundamentalists were primarily concerned with pure doctrine, Graham and other Evangelicals were far more concerned with conversions and cultural impact. "They wanted not only to win the world for Christ, but also to rejuvenate conservative Protestant intellectual culture and earn the respect of the secular intelligentsia. These were the core aims of organizations like the National Association of Evangelicals (founded in 1943), Fuller Theological Seminary (1947), the Evangelical Theological Society (1949) and Christianity Today (1956)" (source).
A key part of Evangelical strategy was the evangelistic crusade. History will remember Billy Graham as the greatest of the crusaders, and no crusade was more important than the one in New York in 1957.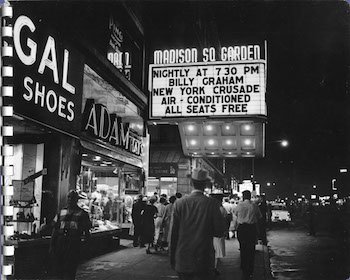 The New York crusade was originally planned to last 6 weeks, beginning May 15, 1957. However, by the time it came to an end, it had lasted for 16 weeks, nearly three times longer than planned. Over that time Graham preached at 114 services and rallies, 98 of them in Madison Square Garden. But the impact carried far beyond New York City. Beginning on June 1, the final hour of each Saturday evening service was broadcast nationwide by ABC and the response was overwhelming, with an estimated audience of 6.5 million viewers. While 18,000 people were experiencing the crusade live in Madison Square Garden, millions more were watching it on television. From this point onward, television would be a major component in every crusade.
The crusade ended at last with an open-air sermon on Sunday, September 1 at Broadway and 42nd Street. Between 60,000 and 75,000 packed the nearby blocks to hear Graham preach on the unknown God. And then, at last, the crusade was over.
Graham's New York crusade had generated massive crowds, but also massive waves of critiques. Liberal Protestants were bothered that Graham's kind of evangelism was not concerned with social justice, but only with conversions. Meanwhile, Fundamentalists, led by Bob Jones Sr., were concerned that Graham's ecumenism led to a diluted message and opened the possibility that converts would be sent not to sound churches, but to Catholic or Liberal churches. Graham continually insisted that he would accept support and assistance from anyone, as long as they did not hinder his message. This crusade marked the final break with many of his Fundamentalist supporters and Evangelicalism's final distancing with Liberalism.
And as Graham distanced himself from both extremes, he helped coalesce Evangelicalism. "For Evangelicals, the Crusade was a major step in gaining self-confidence, empowerment, and acceptance as a significant national group, concerned not only to preach the Gospel of salvation through Christ, but to apply Christian belief to the life of the nation, even as Evangelicals often disagreed among themselves about what that meant" (source).
The crusade had taxed Graham, and many years later he would say that he never fully recovered from it. Yet during the time he had emerged as the leader and spokesman of American Evangelicals. Americans were drawn to his kindness and sincerity and he was now America's best-known and best-loved Christian leader.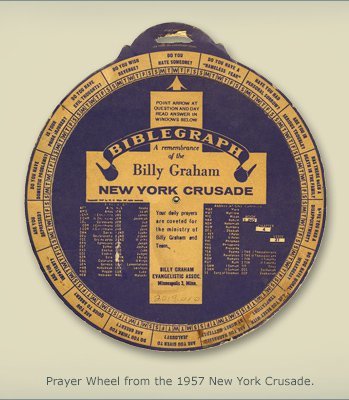 One of the historical curiosities of Graham's 1957 New York Crusade was that little prayer wheel. The wheel guides the user through 18 weeks of daily prayers, divided into weekly topics. When the arrow is pointed to a day, a relevant verse citation appears in the 3 little windows on the lower right side of the wheel. Topics fall under headings such as "Do you hate someone?," "Have you had personal sorrow?," "Do you have moral weakness?," and "Are you depressed?" Each is answered by an appropriate Bible verse.
As Edward Rothstein points out in the New York Times, "Personal questions on a mass-produced object are a perfect emblem for Mr. Graham's strengths. He was able to simulate intimate relationships in the midst of crowds, as if responding to private concerns with public statements. Judging from videos, his power did not come from unusual language or rhetoric, but from that promised empathy. He touched people; he thrived on their being touched."
More than any other figure, it was Billy Graham who shaped Evangelicalism in America and beyond. Leith Anderson, President of the National Association of Evangelicals, has said, "The evangelical resurgence in America has been centered around Billy Graham. He communicated the gospel of Jesus Christ for everyone. Never about politics, ambition, money or power. Just about Jesus. … Billy Graham has influenced American faith more than anyone else in the last century; perhaps, more than anyone else in American history."
His impact is undeniable. And that little prayer wheel seems an apt symbol of his ability to reach out and touch every person, even in a massive crowd. For good and for ill, Evangelicalism was now a dominant force in Christianity.
More in

The History of Christianity in 25 Objects:
View Entire Series