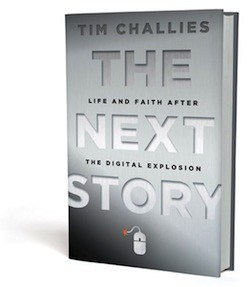 The day is here at last. Today is the day that The Next Story officially releases. This book has been a near-daily companion for almost 2 years now–a book I was thinking about, living, researching and writing. And finally it's a book on my bookcase. And on my Kindle.
Now release dates are a tricky things. Books are available in so many formats and in so many places that they tend to release with more of a fizzle than a bang. But today is as official a day as we're going to have.
On this day I'd like to express my gratitude to you, the person who visits this blog because without you there would be no book. Here is what I say in the acknowledgements: "Thanks to all the people who have made my blog a part of their lives. It is truly humbling that you've chosen to do so, and it is my prayer that I'll find ways of serving you well through that rather unexpected ministry. I appreciate your prayers, support, love and page views." It's not much, I admit, but it's an attempt to express some of my gratitude.
It is a strangely humbling thing to see a book with my name on it. This is my third book but the feeling is no less strange. It feels like a relief that the book is done, that it is printed, that it is out. I find myself praying today that the Lord would see fit to use the book for his glory. This isn't a theological tome and it's not the kind of book that will ever be regarded as a classic of the faith. And yet I believe that it's a book for now, a book that can help each of us as we seek to live our lives in this world at this time. Most of us know struggles with living in a digital world. It's my hope that in this book I can assist a little bit in drawing out those struggles and perhaps even helping you resolve them. That's true whether you are a technophobe or a technophile, whether you are young or old, whether you have every high-tech device or relatively few high-tech devices.
If you would rather purchase a physical copy, it is available right now at Westminster Books. Amazon is projecting another few days before they have it available to ship. The same is true of " target="_blank">CBD. It should find its way into other book stores (both online and brick-and-mortar) over the next couple of weeks.
If you buy it and read it, please do let me know what you think of it. I'll be grateful for your feedback.
Not sure yet? You can learn a lot more about the book right here.