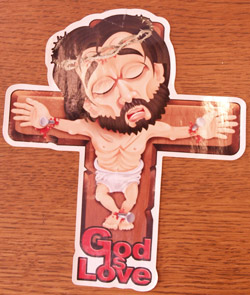 You can own a piece of Internet history by bidding on this bona fide, genuine, Phil Johnson (a.k.a. PyroManiac) bumper sticker, autographed by Phil himself! These bumper stickers were part of a very limited run and are no longer available.
Phil was gracious enough to give me one of the very last of these stickers and was kind enough to autograph it. I'm heartless enough to now sell it. Phil thinks it will sell for $0.15. I think it will sell for enough to put my children through college. So prove me right!
Phil Johnson, known in blogging circles as "PyroManiac," is Executive Director of Grace to You and edits the majority of John MacArthur's books. He is webmaster for The Spurgeon Archive and maintains a blog called PyroManiacs.