This week's sponsor of Free Stuff Fridays is Generations with Vision. Now I often preface this giveaways by saying something like "This is a ministry you know." That's probably not the case with Generations with Vision. Nevertheless, the books they are offering today will prove quite useful to you, I think.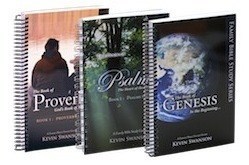 They are giving away 5 sets of 3 Family Bible Study Guides by Kevin Swanson:
Genesis
Proverbs I
Psalms I
And here's what these are all about. "The Bible is the core curriculum for the education of a child. If we provide our children excellent academic instruction in mathematics, science, and grammar, but neglect to teach them the Psalms, Proverbs, and the Gospels, we have failed in the education of our children. Family worship is a time when parents fulfill their Deuteronomy 6:7 and Ephesians 6:4 responsibilities to teach and disciple their families. These Bible Study Guides are designed to assist parents in the task of educating their children in the Word of God."
Again, there are 5 prize packages to win, so go ahead and enter…
Giveaway Rules: You may only enter the draw once. Simply fill out your name and email address to enter the draw. As soon as the winners have been chosen, all names and addresses will be immediately and permanently erased. Winners will be notified by email. The giveaway closes Saturday at noon.
Note: If you are reading via RSS or email, you may need to click through to see the form.