Whenever it comes to putting together a new Free Stuff Fridays post, I find myself skimming back over the other things I've written during the week that was. This week I wrote a lot about technology and reading. I suppose that shows what has been on my mind over the past few days.
Speaking of reading, today's Free Stuff Fridays gives you the opportunity to win a few new books. It is sponsored by Zondervan, a publisher you know well (and will know better once you buy my book The Next Story, set for release next April!). They are offering 5 prize packages, each of which contains the following 3 books:
Christian Beliefs by Wayne Grudem. "A basic guide to twenty Christian beliefs that is solid, yet readable, and not intimidating for new believers and Christians in general. Includes chapter review questions."
Introducing the New Testament, Abridged Edition by Andy Naselli, D.A. Carson & Douglas Moo. "Abridgement of An Introduction to the New Testament. This abridged edition of an established major textbook brings the best of New Testament scholarship to the church and makes it accessible to the average reader. Focusing on historical questions dealing with authorship, date, sources, purpose, and destination of the New Testament books, this book will help a new generation of students and church leaders better grasp the message of the New Testament."
A Place for Weakness by Michael Horton. "The good news that God's Word proclaims is a recipe to use in times of disaster. That is to say, it comes as a relevant announcement only to those who are in trouble for one reason or another. A Place for Weakness, formerly titled Too Good to Be True, by award-winning Michael Horton, calls for more realism in facing life's challenges and a richer view of God and his purposes to match them."
I have read all or part of all three of these books and recommend each one of them.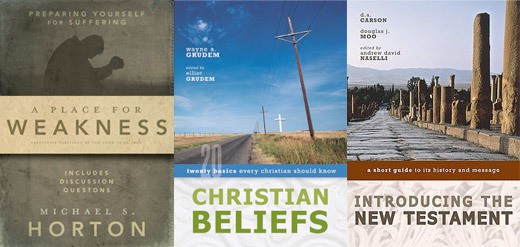 Again, Zondervan is offering 5 prize packages, each of which will contain all 3 books.
Giveaway Rules: You may only enter the draw once. Simply fill out your name and email address to enter the draw. As soon as the winners have been chosen, all names and addresses will be immediately and permanently erased. Winners will be notified by email. The giveaway closes Saturday at noon.