This week's Free Stuff Friday is a good one and is sponsored by SermonAudio. SermonAudio has a library of almost 600,000(!) sermons from conservative churches around the world. They have recently invested a lot of effort in adding support for mobile devices such as iPhones, iPods, Android devices, and so on. You can find support for your device at sermonaudio.com/mobile. It will allow you to browse all of those sermons.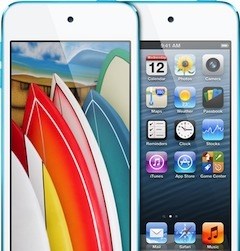 How do you draw attention to mobile capabilities? By giving away some mobile devices. Though there are fewer prizes than usual (there are typically 5 but this week there will be 2) they are pretty significant. Each of the two winners will receive:
an iPod Touch (5th generation, 32 GB)
some SermonAudio swag, including a mug and t-shirt
And all you need to do to enter the giveaway is put your name and email address in the form below.
Giveaway Rules: You may only enter the draw once. Simply fill out your name and email address to enter the draw. As soon as the winners have been chosen, all names and addresses will be immediately and permanently erased. Winners will be notified by email. The giveaway closes Saturday at noon.