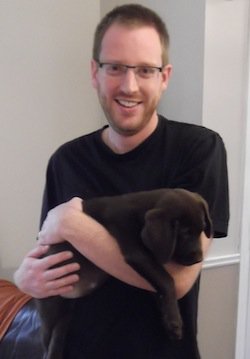 Last night I returned safe and sound from all of my travels. I thoroughly enjoyed the speaking trip, but as always, it was wonderful to return home. I came home not only to my family, but to that new dog I surprised my kids with (am 8-week old Chocolate Lab). I figured I should include a fun photo of myself with the dog, but the silly thing fell asleep as soon as I picked her up. Nevertheless, here she is. She doesn't have a name yet, but I assume we'll figure that out soon enough. The kids are lobbying for "Brownie" or "Sienna." I'm not a big fan of either, but I'm not sure that I actually get a vote.
Also, I mentioned earlier in the week that I had been out on a photo shoot for a magazine story that is coming up early next year. My friend Lukas Van Dyke decided to get all whimsical and hauled a desk and chair into the hills of California. Here is what that part of the photo shoot looked like from a little ways up the hill (my friend Steve took photos of the photos). I'm looking forward to seeing what Lukas puts together.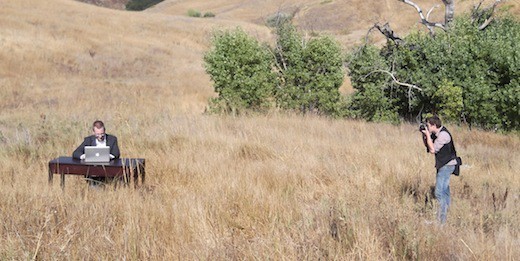 Now that I'm home, I'm gearing up to officiate a wedding on Saturday and then to begin a 3-part sermon series on Jonah the week after. There is always lots going on around here!