It has been a long but good day here in Woodstock, GA. We got up early and had the kids dig into their stockings. Then, once family had arrived from far and wide, we got busy opening what looked like just an obscene amount of gifts (there are, after all, eighteen people involved). After a great breakfast, a few of the menfolk (mostly) headed downstairs to package up copies of my book to be sent all around the world.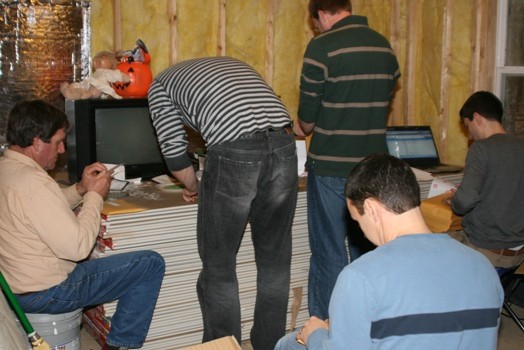 That's my brother-in-law Rick checking labels against the spreadsheet, me stuffing books into envelopes, my brother-in-law Justin putting the 3 cent stamps on, my dad putting on the rest of the stamps, and my brother-in-law Pat writing "Media Mail" in hundreds of envelopes. It wasn't fun work, but we had a good time. Or I did, anyways.
We got most of the tough work done and it remains just to take all of those books to the post office tomorrow.
Anyways, from my clan to yours, have a very Merry Christmas…