I've got nothing to say today. Nothing except these links:
Job for a Taxi Driver – Carl Trueman cracks me up. This article is a good (and short) one. "Few things make my blood boil more than those who spend their lives doing things they love in pretty comfortable environments, who take so much pride in being 'misfits', and who, as a hobby, complain about how hard life is for them in the church."
Selecting Songs for Christmas Worship – This is a useful article about how to choose good songs to sing as a congregation at Christmas time. (HT:Z)
A Plea for Profound Simplicity – David Murray pleas with pastors to embrace simplicity in their preaching.
31 Ways to Pray for your Children – A reader sent me a link to this article, a list of 31 ways to pray for your children (one for each day of the month).
Page CXVI – Page CXVI has released a new album titled Hymns III. It has seven new takes on old hymns (well, 6 are old, 1 is new).
Apple and Christian Apps – Phil Vischer writes about the fact that Apple pulled the Manhattan Declaration app from the Apple story after people complained it represented hate speech.
Storm Over Montana – This is a stunning photo from NASA's Astronomy Picture of the Day archives (click to see it bigger):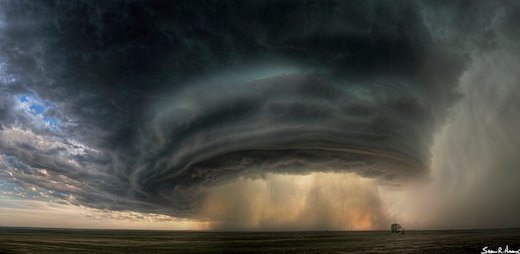 Egotism is an odd disease. It makes everyone sick but the one who has it. –Anon