Some people have asked me about a 2020 Christian Reading Challenge. I'm hard at work on it and expect it will be ready in very early December. Stay tuned!
Westminster Books has a sale on R.C. Sproul's commentaries.
(Yesterday on the blog: When the Forbidden Woman Is in Your Home)
What an interesting and exciting report from Cameroon! "When we first moved to Cameroon, I was introduced to the machete which is all so common in daily life here. It is used to kill snakes, cut fingernails, slice vegetables, clear a field in the bush, plant seeds; it is used for absolutely everything. And yet, I had never known life with a machete, so I frankly didn't see the immediate value of it (that has since changed). If "my people" have survived for generations without a machete, is it really that important? This is exactly the same question that is often asked among illiterate people when being introduced to the idea of reading and writing."
"'Do not take an oath at all,' commands Jesus (Matthew 5:34). This prohibition raises quite a few questions. Is Jesus forbidding Christians from things like swearing to tell the truth in court? To understand what Jesus is prohibiting and how to apply it in our lives we must take a closer look at this passage."
Trevin Wax: "Whatever the disagreement was about, it must not have been a major doctrinal issue. It wasn't something so serious that it compromised the gospel. What's happened here is that the intensity of this disagreement is compromising the gospel – not the issue itself. There's a difference."
I wish I had thought of this article idea first! Be sure to look to the bottom to see who Pastor Charlie is.
Keith Evans wants to make sure we are not domesticating death. "We have essentially taken that which is heinous; that which is abnormal to God's original design and creation; that which has intruded upon all he has made 'very good' and sullied this sphere of life, blessing, and bounty; and we have made that intruder something it is not."
Graham A. Cole outlines 10 things you should know about demons and Satan.
CCLI has posted to YouTube a couple of excellent acoustic versions of songs by CityAlight. You'll find "Yet Not I But Christ Through Me" and "Only a Holy God."
As parents we are to commit ourselves to the task of raising our children in the discipline and instruction of the Lord, to teach them the facts of the faith, to show how it answers our questions and meets our needs, to insist that the good news of the gospel must be personally apprehended.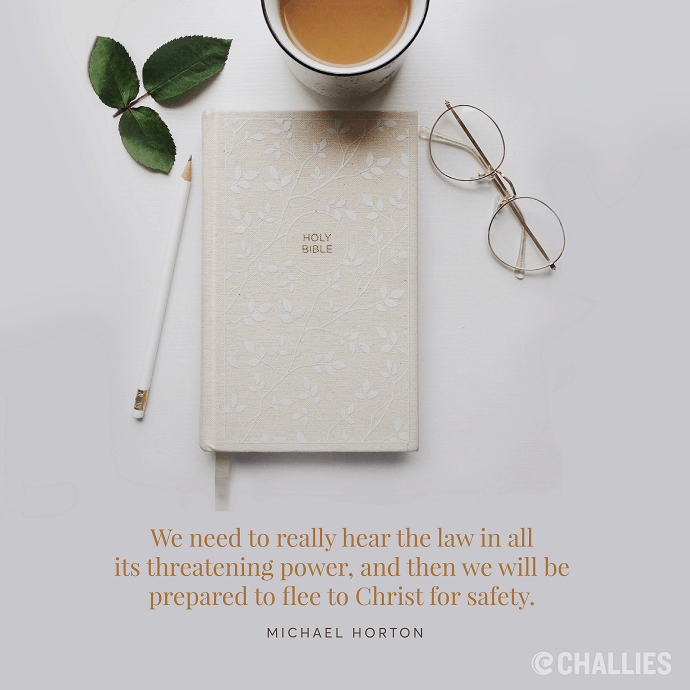 We need to really hear the law in all its threatening power, and then we will be prepared to flee to Christ for safety. —Michael Horton