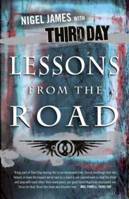 I still remember buying my first Third Day album. It was their self-titled debut album and I purchased a cassette copy of the original 9-song version released by Gray Dot Records. It was a bit rougher and, in my mind, a little bit better than the subsequent major-label re-release a year later. I loved the combination of Mac Powell's voice with the southern rock and occasional bluesy melodies. I remained quite a fan of Third Day until Time or so. While I have since grown a little bit ambivalent about their music, I continue to respect them as a band and as individuals; I admire the fact that they have strayed true to their Christian roots despite finding a great deal of fame and popularity. They seem committed to serving God in the unique way He has gifted them.
As Third Day has traveled the world over the past fifteen years, they have often been accompanied by "road pastors" (probably not a church office you'll find in the New Testament). One of these men, Nigel James, has just released Lessons from the Road, a book that gives insight into the band—"the excitement, the homesickness, the relentless schedule, the challenge to stay committed to God's purpose while on the road." Featuring contributions from the band members, the book gives an interesting inside look into the lives of the men of Third Day. James shares some of the devotionals he has taught to the band and reflects on his times spent with these men. The band members write about some of their songs, about their lives, and about their priorities. Overall, the book offers a very positive and intimate look at Third Day.
One thing that concerned me just a little bit as I read the book was an subtle, underlying assumption that pastoring a rock band is somehow a higher calling than pastoring a church. I doubt that either the band or the book's author believe this, but James seems to regularly face people who consider him a kind of celebrity because of his role in the lives of the men of Third Day. I hope he would be the first to say that his primary calling in life and the one that excites him most is pastoring a local church. And I hope Christians understand the critical importance of the local church relative to rock bands and rock stars. I delighted to read how the band members are members of local churches and how they have renewed their commitment to these local bodies despite travel schedules that make such commitment difficult at times.
I suspect the reader's enjoyment of this book will rise and fall in proportion to his enthusiasm for the band. Those who are fans of Third Day will no doubt consider this a must-read. Those who have little love for the band will find little to love in Lessons from the Road. And I guess I stand as proof that those who are somewhere between can still read it with enjoyment. I continue to enjoy Third Day's music and ministry and, having read this book, understand why God has blessed them so they can do what they do. They are committed to His purposes and I pray for their continued success.