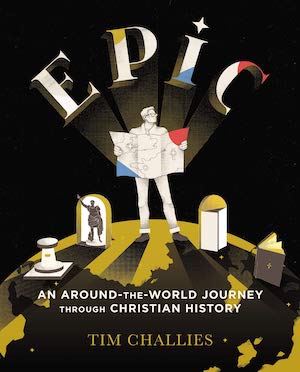 Update: Epic: An Around-the-World Journey through Christian History is now available for pre-order! Sign up below to receive updates for when pre-order bonuses and other information becomes available! (Pre-order the book and/or pre-order the documentary video series.)
If you are a regular reader of this blog, you know that I've committed 2018 to traveling the world to research church history. In particular, I am attempting to locate historical objects through which I can tell the story of the Christian faith. My travels have already taken me to Australia, Ireland, Israel, New Zealand, Northern Ireland, and the United States and there are many more countries to come. At every stop I am visiting churches and museums, locating markers and monuments, and sitting down to chat with local experts.
What you may not know is that I am being accompanied by filmmaker Stephen McCaskell (who directed the recent Luther documentary). My project, which goes by the name EPIC, has now become our project. It is leading to something big: A book and a documentary video series to be published simultaneously in 2020. In broad terms, the series will document the search while the book will detail what we've found. Our hope in it all is that as we travel around the world and through the ages we will be able to tell the ONE BIG STORY of what God has done in and through his church.
How can you be involved? First, you can pray. We have many miles and many days of travel ahead. Second, you can join our mailing list. We will provide occasional updates on our travels and then, as the release date approaches, provide you information about pre-orders, deals, and other neat things. You can join the list here: