This week's Free Stuff Fridays sponsor is Missional Wear. Missional Wear provides quality apparel that is inspired by reformed theology and missional living.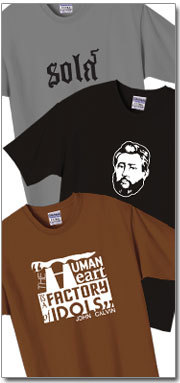 We are trying something new for the prize packages by adding a social element. Missional Wear is offering 5 packages that each include a t-shirt of the winner's choice along with a decal. This time we are adding a social spin that gives a chance to double the winners! Missional Wear has agreed to offer the prize to 10 winners if they reach 1500 likes to their Facebook Page by the closing of the giveaway. You can increase your chances of winning by letting your friends know about this week's giveaway and encouraging them to like the Missional Wear Facebook page.
If you want to "like" them, just go ahead and click the button below…or click here and do it that way.
Missional Wear will also have a table at this year's Ligionier National Conference. If you are at the conference, be sure to drop by the table and meet them in person.
Giveaway Rules: You may only enter the draw once. Simply fill out your name and email address to enter the draw. As soon as the winners have been chosen, all names and addresses will be immediately and permanently erased. Winners will be notified by email. The giveaway closes Saturday at noon.
Note: If you are reading via RSS or email, you may need to click through to see the form.