This week's Free Stuff Fridays is sponsored by Baker, a publisher I'm sure you are familiar with. According to their web site, "Baker Books has a vision for building up the body of Christ through books that are relevant, intelligent, and engaging. We publish titles for lay Christians on topics such as discipleship, spirituality, encouragement, relationships, marriage, parenting, and the intersection of Christianity and culture. We also publish books and ministry resources for pastors and church leaders, concentrating on topics such as preaching, worship, pastoral ministries, counseling, and leadership."
Baker is offering 5 prize packages, each of which contains three great products:
To the Glory of God by James Montgomery Boice which is a 40-day devotional on the book of Romans.
Let the Nations be Glad by John Piper (3rd Edition)
Let the Nations be Glad DVD by John Piper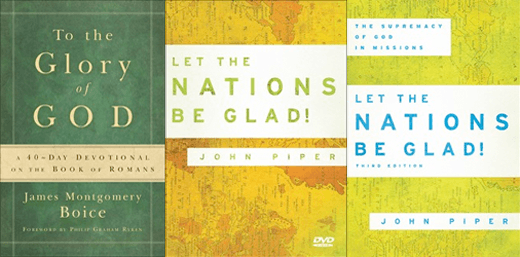 John Piper's Let the Nations Be Glad!, now in its third edition provides readers with a sound theological foundation for missions. Now this companion DVD offers a series of six thirty-minute sermons by Piper preaching on the topics found in his bestselling book. Topics include defining missions and defining peoples, the urgency of missions, the goal and the fuel of missions, prayer, and suffering. The DVD makes the book's content available to a wider audience through its dynamic presentations.
And here is a description of Boice's book: Romans has been a book to which believers have looked for both doctrine and encouragement. Many Christian readers have long trusted James Montgomery Boice to guide them through the Scriptures through his preaching ministry and his writings.Now these two much-loved sources of wisdom come together in To the Glory of God, an inspiring devotional drawn from Boice's classic commentary on the book of Romans. Offering rich reflections on Romans, this meditative book contains forty days of selections, daily devotional challenges, and the complete text of the book of Romans. To the Glory of God is your forty-day journey toward strengthened faith and a greater encounter with the power of God's Word.
Rules: You may only enter the draw once. Simply fill out your name and email address to enter the draw. As soon as the winners have been chosen, all names and addresses will be immediately and permanently erased. Winners will be notified by email. The giveaway closes Saturday at noon.