Due to a vaction that extended from one Friday to the next, it has been two weeks since the last edition of Free Stuff Fridays. I know that this must have been a sore trial for those of you who visit only on Fridays hoping to win some free books! Nevertheless, I'm sure you survived. Today we're finally back with a new giveaway.
This week's Free Stuff Fridays is once again sponsored by the new CBDReformed.com. You know who they are by now, I'm sure, since they've become a regular sponsor of this giveaway.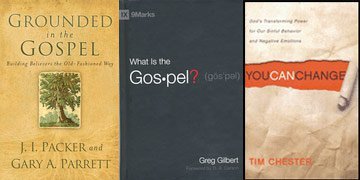 CBDReformed is offering five prize packages, each of which will contain the following three books:
Grounded in the Gospel by J.I. Packer
What Is the Gospel? by Greg Gilbert
You Can Change by Tim Chester
In addition, CBDReformed is offering a 3 day sale (July 23-25) on the following two products. These deals are available immediately and for anyone who cares to take advantage of them.
Giveaway Rules: You may only enter the draw once. Simply fill out your name and email address to enter the draw. As soon as the winners have been chosen, all names and addresses will be immediately and permanently erased. Winners will be notified by email. The giveaway closes Saturday at noon.