This is the second week in a row that we've had a new sponsor for Free Stuff Fridays. Last week it was Peacemaker Ministries and this week it is Family Christian Stores, a name most are familiar with, I think. Family Christian is giving away the complete set of Gospel Coalition booklets.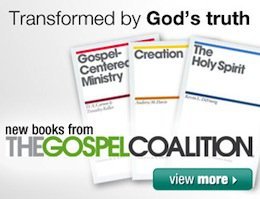 There are 5 prizes to win which means that 5 people will each receive all 8 of the booklets.
This is what the Gospel Coalition says about these books:
During a 2008 Council meeting, we decided to partner with Crossway to produce a series of books for local church leaders. The first book—issued initially as a series of booklets published this week—unpacks TGC's Foundation Documents. Several Council members and like-minded friends have written the initial eight booklets on a variety subjects of crucial doctrinal importance.
The books cover gospel-centered ministry, creation, the Holy Spirit, restoration, the church, the gospel, the plan and whether we can know the truth.
You can find out more about them here:
http://www.familychristian.com/gospelcoalition/
Giveaway Rules: You may only enter the draw once. Simply fill out your name and email address to enter the draw. As soon as the winners have been chosen, all names and addresses will be immediately and permanently erased. Winners will be notified by email. The giveaway closes Saturday at noon.
Note: If you are reading via RSS or email, you may need to click through to see the form.