This week's Free Stuff Friday is sponsored by P&R Publishing and it features quite a prize package. Actually, there are 5 prize packages to win, each of which will contain the following:
Equipping Counselors for Your Church by Bob Kelleman
Uprooting Anger by Robert Jones
All 27 volumes of the Resources for Changing Lives series of booklets.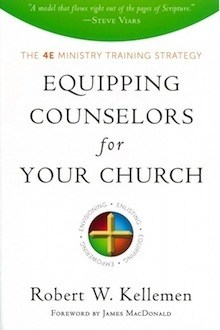 The newest of these books is Bob Kelleman's Equipping Counselors for Your Church. Here's what the publisher says about it:
Want your ministry to have a lasting impact? The best way to leave a legacy is to equip others to leave their own. Leaders want to change lives, and the best leaders know that a truly effective ministry must train its members to become leaders themselves. After all, God's people want to change lives too but we are all tired of approaches that promise much and deliver little. We are ready for an equipping ministry that is comprehensive, easy to implement, and relationship-oriented; not program-focused.

The 4E Ministry Training Strategy, tested in hundreds of churches already, is a best-practice tool for empowering God's people to make disciples. Here is the 21st-century manual for a Christ-centered, church-based, comprehensive, compassionate, and culturally informed mobilization of the priesthood of all believers, enabling the body of Christ to change lives. So launch a revolution in one-another disciple-making, and make your church into a place not simply with biblical counseling, but of biblical counseling.
As always, there are 5 prize packages to win and each of the packages contains both books and all 27 booklets.
Giveaway Rules: You may only enter the draw once. Simply fill out your name and email address to enter the draw. As soon as the winners have been chosen, all names and addresses will be immediately and permanently erased. Winners will be notified by email. The giveaway closes Saturday at noon.
Note: If you are reading via RSS, you'll need to click through to see the form.