This week the blog has been sponsored by Ligonier and Reformation Trust.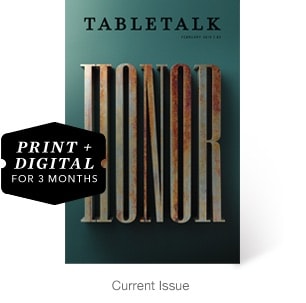 Biblical. Reliable. Readable.
For over forty years, Tabletalk magazine has helped growing Christians live biblically informed lives. In each issue, you'll find daily studies to help you understand and apply God's Word, engaging articles from leading Bible teachers, an effective Bible reading plan, and more. Ten Free Stuff Fridays winners will receive a one-year subscription (this offer is good even for current Tabletalk subscribers). Also, all Challies readers can sign up for a no-risk trial and get three months for free. In addition to the print magazine, you'll enjoy digital access to a searchable archive of back issues. Try it and see why 250,000 people worldwide read Tabletalk each month.
Enter the Draw
All you need to do to enter the draw is to drop your name and email address in the form below. (If you receive this by email, you will need to visit challies.com to enter.)
Giveaway Rules: You may enter one time. As soon as the winners have been chosen, all names and addresses will be immediately and permanently erased. Winners will be notified by email. The giveaway closes Saturday at noon.