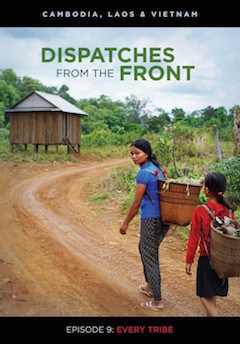 For many years now I have told you about the excellent series of videos called Dispatches from the Front. These videos follow Tim Keesee as he travels the world to discover and document all kinds of gospel advance. In past episodes he has traveled through Eastern Europe, North Africa, China, India, and just about everywhere in between. In every case he has found Christians and he has reported on how the church is growing and how the gospel is advancing in those parts of the world. He does it in his inimitable "dispatches" style. Episode 9, Every Tribe, has just been released and in this one he travels to Cambodia, Laos, and Vietnam.
I can't describe it any better than the video's own description: "The latest episode of the Dispatches from the Front series is set in Cambodia, Vietnam, and Laos, where a patchwork of tribes lives—people groups long crushed by brutal dictators and enslaved to the worship of demons. But the gospel is setting prisoners free! From the killing fields of Cambodia to the remote corners of Laos, this is an 'every tribe, every tongue' story of first-generation believers, who are now singing for joy over their deliverance, loving the Word, and crossing borders to share the Good News that never has been kept within bounds."
The video shows Christians—Christian brothers and sisters—thriving despite trials, sharing their faith despite opposition. It shows churches growing, Christians worshiping, the gospel advancing. It is a stirring testimony to what the Lord is accomplishing among his people.
In the years between I watched episode 1 and 9, Tim has become a valued and trusted friend. He is a man who loves the Lord, who loves the gospel of the Lord, and who is willing to venture into the farthest places to find and share evidence of what God is doing. I have gladly recommended all 8 of the previous episodes and gladly commend this one to you as well. I always make sure my family watches it and always make sure our church library has a copy. These videos are too good not to share, too encouraging not to broadcast to others.
Dispatches from the Front: Every Tribe is available from Westminster Books or Frontline Missions.