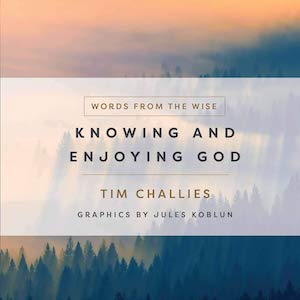 If you have frequented this site over the years, you have undoubtedly seen some SquareQuotes—the quotes combined with graphics that I release on a daily basis. A couple of years ago Jules Koblun and I had the idea of combining some fresh SquareQuotes with short devotionals. While she got busy with the designing, I got busy with the writing. Before long we had created Knowing and Enjoying God, the first in what we anticipate will be a number of books in the "Words from the Wise" series.
Knowing and Enjoying God is a series of 101 quotes from Christian authors, with each quote accompanied by a beautiful graphic and a short devotional. The book's theme is the means of grace (or, if you prefer, spiritual disciplines). We cover the themes of prayer, Bible reading, meditation, worship, ordinances, gratitude, stewardship, and more. All of the quote graphics are original, by which I mean that I have not shared them through social media in the past.
My hope for the book is that it will both edify and encourage–that it will teach readers about the privilege it is to know God and that it will encourage readers to pursue him all the more. I hope it will be a valuable resource for those who may need a short burst of encouragement to strengthen and equip them in the Christian life. I hope it will be as valuable to seasoned believers as to very new ones. And I hope it will also prove suitable as a book to hand an unbeliever to perhaps help them see the beauty of Jesus Christ and the joy that comes to those of us who know him as a friend knows a friend.
The book is available from all the usual retailers in both hardcover and e-book formats, including Amazon and Westminster Books.
Here are a few early reviews:
I hope you will give it a look!
(Long-term readers may be interested to know how this book fits into the timeline of my life. I completed writing it and doing a first round of edits just prior to Nick's death; final editing took place a couple of months after.)