Many years ago I discovered a set of tools and procedures that allowed me to be most productive. Since then, I have pretty much stuck with those same tools and with that same system, save for a few minor tweaks here and there. (See Do More Better)
In the past year, though, I have discovered a few new tools that have swiftly made a big difference to my life. These have not replaced any of my existing tools, but instead settled in alongside them. Knowing that some of my readers are interested in such things, I thought I'd share about them. The first two pertain to reading, retaining, and engaging with information while the third pertains to time management.
Roam Research
Roam Research is a note-taking tool that allows you to enter, organize, and then re-discover information. It is, I suppose, a tool for personal knowledge management. Some call it their "second brain." It has proven truly life-changing for me and I keep it open at all times.
I have long used Evernote to store notes, receipts, and other important information, and it follows a standard hierarchical method of putting notes in notebooks and notebooks in notebook stacks. It's perfectly suited to that purpose. But what it doesn't do well is relate one piece of information to another. This is where Roam Research comes into its own. It uses a non-hierarchical method of relating notes to one another with its "bi-directional links" creating relationships between related pieces of knowledge.
Consider, for example, this note I took while reading Carl Trueman's The Rise and Triumph of the Modern Self:

The brackets and hyperlinking of "Philip Rieff" show that I can click on his name. This will open a page displaying all the other references to Rieff across the entirety of my Roam database—both the links I have made deliberately by employing those brackets and others one that I may have missed. These links may have come from books or articles I've read, articles I've written, podcasts I've listened to, or just about any other source of information. The same is true of "psychological man" and "safe place," and could be true of any other word I care to bracket. If I do click on "Philip Rieff" I can see that I have also run into him and bracketed his name in Rod Dreher's Live Not By Lies and the multi-authored Myth and Meaning in Jordan Peterson, and can read the contexts in which his name appeared.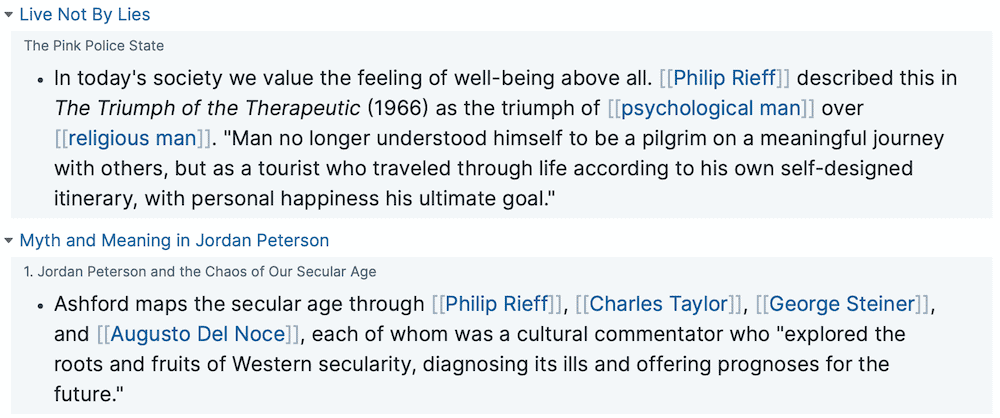 Additionally, I can see a "graph view" which shows the relationships between terms. So, for a term like "Critical Social Justice," I can see which resources and terms it most relates to.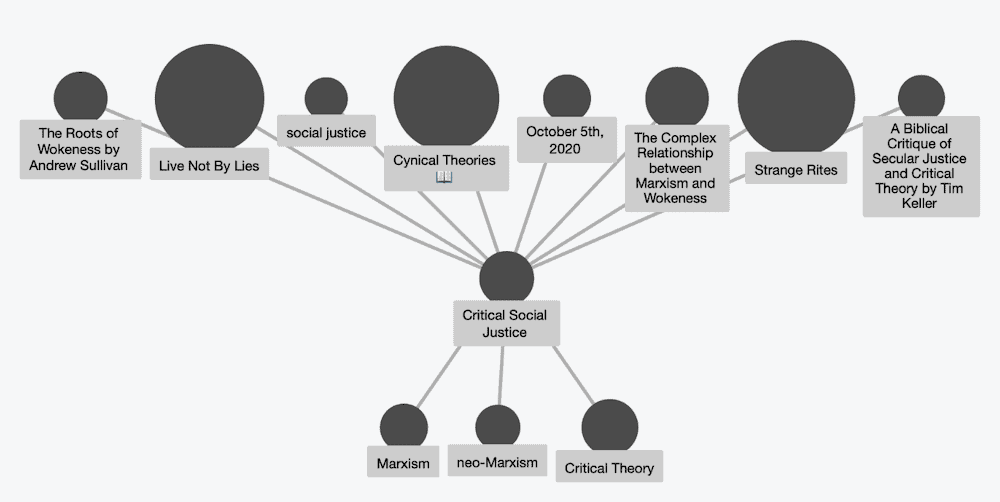 Roam Research also has a daily notes function which is extremely useful in its own way. To be honest, though, it's all quite hard to explain, so instead of writing thousands of words, I'll link to a couple of explanatory articles and then suggest that you check it out, especially if you work in areas where relationships between knowledge could be helpful. And then be sure to read about Readwise and how it interacts with Roam. (Introductions to Roam: 1, 2; as an alternative, you can look at the similar app Obsidian)
Roam Research is free for 31 days, then has a moderate subscription fee. "Scholarships" are available to researchers, people under 22, and people in financial distress.
Readwise
Readwise is an app designed to help you get the most out of your reading, and especially reading on the web or e-reader devices. Again, let me tell you how I use it so you can take that as a test case.
I read the great majority of my books on my Kindle. As I read, I highlight important passages. Readwise's job is to collect those highlights and to do two things with them.
The first is to build a daily newsletter which is sent to me in the morning. This newsletter contains a selection of highlights from the books I have read in the past. It selects them randomly from all the books in my library, except the ones I have specifically unselected. I can weight some books as more important than others, or books I've read recently as more or less important than books I read a long time ago. These daily newsletters have been an extremely helpful mechanism for helping me re-encounter and retain the information from those books. I have Readwise send me 6 highlights per day and I take the time to read each one. It is 2-3 minutes well invested.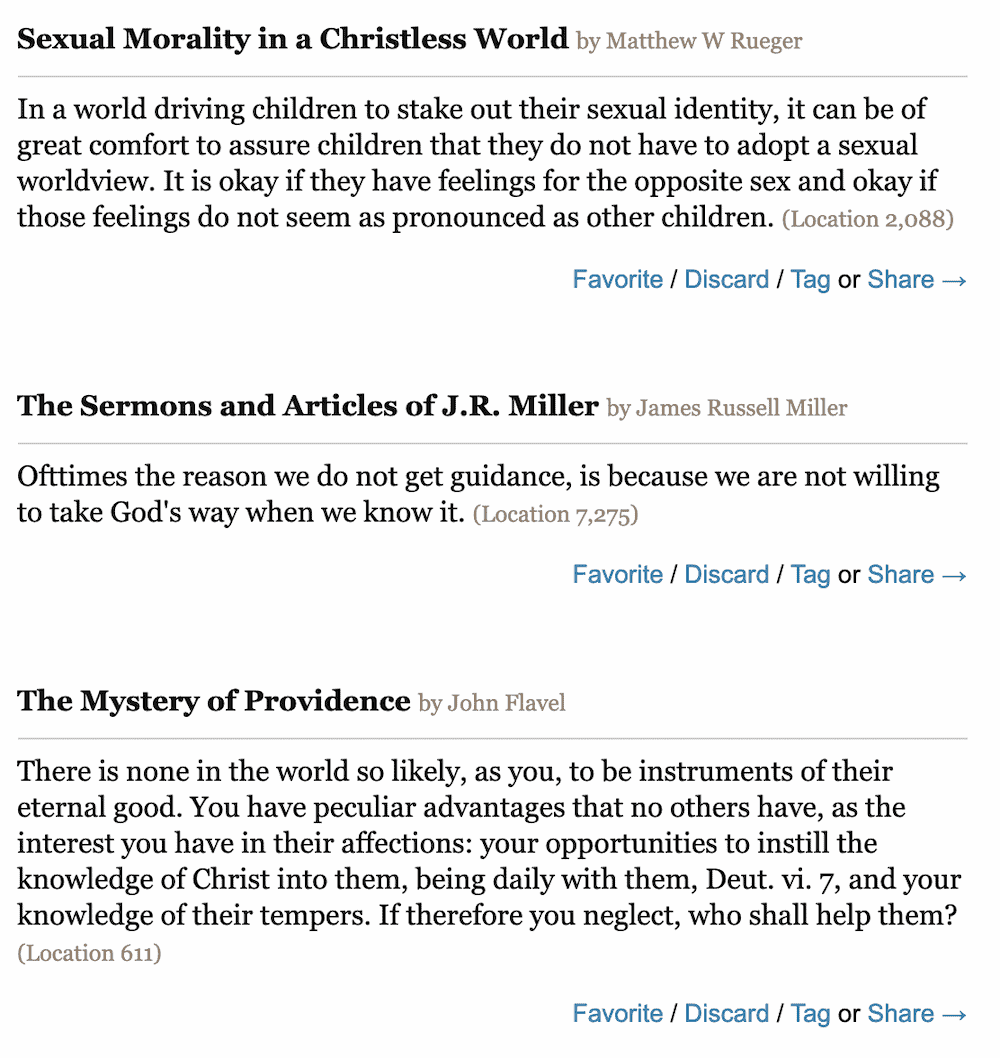 The second thing Readwise does is export all the highlights from my books into Roam Research. So what I highlight on my Kindle is automatically entered into Roam Research a few hours later. Here, for example, are some highlights from Theodore Cuyler's How To Be a Pastor: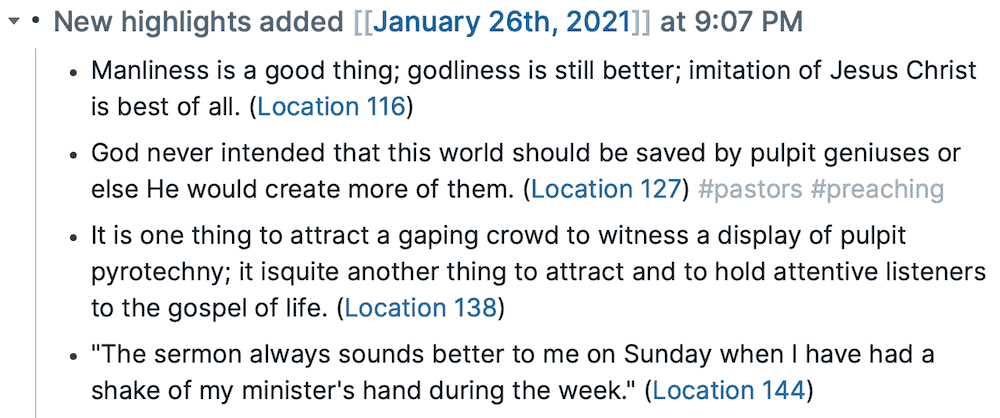 After the highlights get exported, I go through them briefly to bracket keywords (or add hashtags, which accomplishes the same thing). Each highlight includes the Kindle reference so I can easily navigate back to that spot in the book with a single click. If I read books the old-fashioned way, I can still add my highlights, but either have to type them in manually or use Readwise's scanning function, which works middlingly well.
Readwise is free for 30 days, then has a modest subscription fee.
Tempo
Unfortunately Tempo is no longer available. You may want to try Mailman which has been every bit as beneficial to me.
The final resource is an email app called Tempo. Its unique feature is that it delivers email in batches based on a customizable schedule. So for those who, like me, struggle with email self-control and seem unable to stop themselves from checking it all day and every day, Tempo allows you to determine the times of day at which it will fetch your email. This has proven to be exactly what I needed to wrestle back control over my email habits.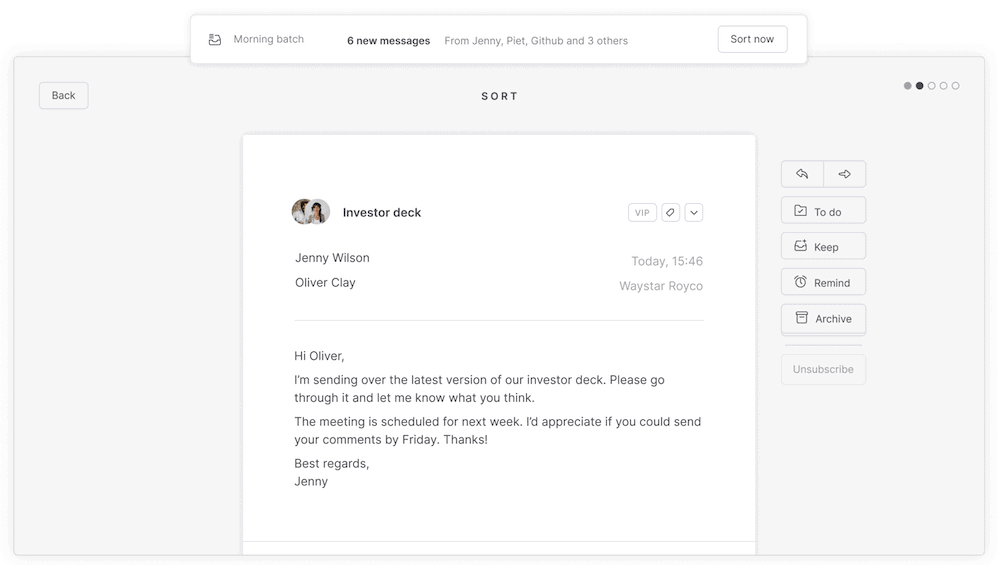 I have Tempo setup to check email in the early morning, at noon, and at the end of the workday. That is all I need and it works absolutely perfectly. It has other features as well, including a wonderfully minimal workspace, but batching is its best one. Its iPhone app is in beta, but works very well. Android and Windows support is coming in the future.
Tempo is free for 30 days, then requires a subscription.