May the God of love and peace be with you today.
(Yesterday on the blog: Christmas Bitter and Christmas Sweet)
"Christian, you must be a person of love. Our great enemy knows the power of this love in our hearts, relationships, and churches. He does all he can to turn us from love to hate, from trust to doubt, from clear communication to suspicious gossip. He works this evil in our families, churches, and denominations."
I'd like to encourage other Canadian churches to consider this response to Bill C-4 (or another like it) which can be read during Sunday services. "We recognize that the greatest danger facing the Canadian church is not that we might face criminal prosecution, but rather that we might compromise in our teaching of the Word of God or fall silent in our proclamation of the gospel. Along with church leaders of like conviction across Canada, we stand before you today to pledge that we are committed to obeying God above all others. With the Lord's help, we will continue to proclaim the whole counsel of God without fear or favour."
I think you'll enjoy this Christmas-themed theological meditation from Nick Batzig.
"I'm not Jesus. I'm no snake crusher. Yet even as I pastor, and even as I step into the disorder of chaotic lives, even as I listen to the broken, or bring peace to the fearful, I ride the coat-tails of the one who defeated death. I can't bring life, but I can point to it."
H.B. Charles Jr.: "Because of Christ, your cup is not empty. God pours favor into your cup. It is not just a sip. God fills our cups to the brim. He does not stop here. God pours until our cups overflow. Do not complain that you do not have what you desire. Thank God that you do not have what you deserve. Do not compare, compete, or complain. If you try to move your cup, you will miss the outflow that leads to overflow. The Lord can make your cup overflow wherever you sit."
There is such sweet comfort in this: "Death may grieve us, but in Christ we can face it with hope. Our loved ones who trusted in Jesus are not abandoned or destroyed."
We must follow others as we'd wish to be followed, not just through our brilliant decisions, but also through those that are difficult, debatable, or, in the final analysis, misguided.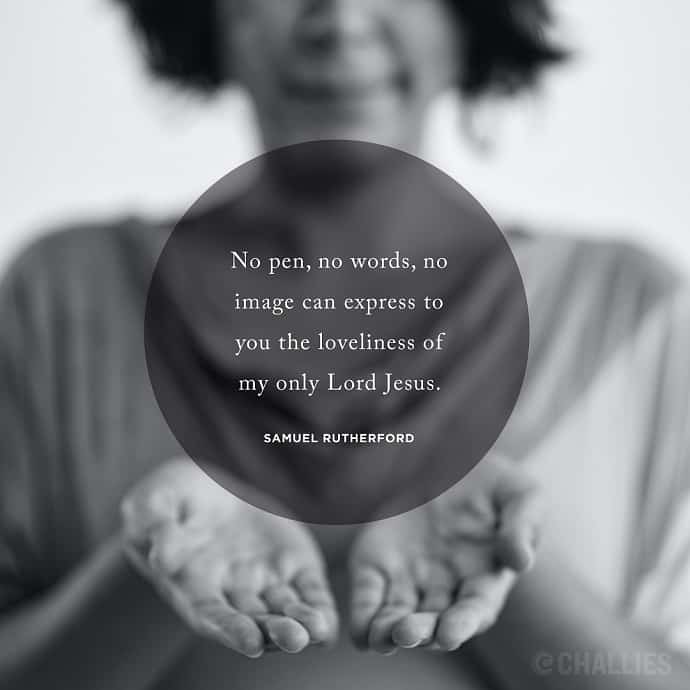 No pen, no words, no image can express to you the loveliness of my only Lord Jesus. —Samuel Rutherford