The God of peace be with you today!
Today's Kindle deals include a number of titles from Crossway featuring books by Carl Trueman, Kevin DeYoung, and others.
(Yesterday on the blog: Thy Word Is Not a MagLite)
Conrad Mbewe lists ten things you ought to know about the African church. Example: "African society, generally, is very open to the Christian message, though openness to listening is not the same thing as openness to responding to the message. If they know that you are a pastor who has come to visit their home, most parents will call everyone in the home to come and listen to you. The door of opportunity is still wide open."
On this, the anniversary of Luther's death, you may enjoy reading an account of his final days.
It's strangely encouraging to consider that not every local church eventually dies out. "To say a church is healthy doesn't mean that it will never die, any more than saying a person that is healthy won't: the healthy will just generally live longer than the unhealthy."
This article calls you to compare the gentle voice of Christ to the accusing voice inside your head. "Perhaps you know your need to preach to yourself and not just listen to yourself, but are you aware of whose voice your inner voice imitates? Who do you sound like when you talk to you? I'm specifically referring to the tone of voice in your head. Does it sound like Jesus? Or does it sound more like a harsh drill sergeant, a hard-to-please father, or a hypercritical, disappointed mother?"
M.R. Conrad explains why we should all seek to be like John Warr and Nelson Knode. Don't know who they are? Then read the article to find out…
The Christian singer Carman has died. I wasn't ever into his music, but could hardly escape hearing it in the 90s. He was quite a character as this article from CT makes clear. "He was a one-name celebrity, and for those who knew him, the Christian singer and showman ranked in the highest echelons of American stardom, up there with the other mononymous divas: Madonna. Cher. Liberace. Carman."
"Who wouldn't want to be 'mature and complete, not lacking anything?' But who would want the many discomforts that lead us there? The road to maturity is never an easy one, but God loves his children too much to deliver them from the path that leads to such a good destination."
We are to be gentle so we can serve as a display of the one who deals so gently with us.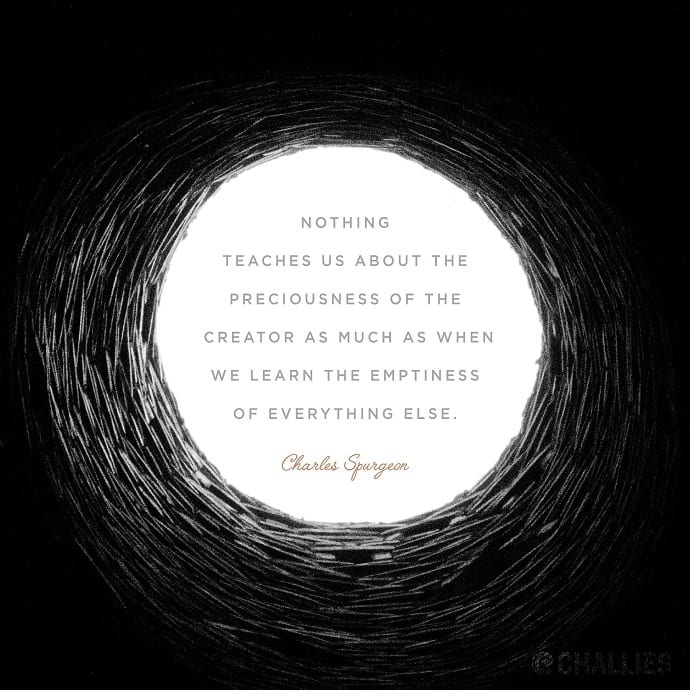 Nothing teaches us about the preciousness of the Creator as much as when we learn the emptiness of everything else. —Charles Spurgeon