Good morning. May the grace of the Lord Jesus Christ be with you on this fine day.
There are a few Kindle deals today that are geared toward younger readers.
"Self-importance is an often-overlooked sin that breeds dissension. It fans the flames of controversy." Read by Trevin Wax writes here…
This is a sweet video that could only have been recorded in the past year. "I was inspired to write Part of Me while watching my kids adjust and learn to live in a pandemic. One day they left school and without warning never went back. They didn't get to go to their friends' birthday parties. Dance class became virtual. Everything changed. I want them to know that I see them. I see their big emotions. We're going to get through this together."
"These days, it's common for people to get baptized at 10 or younger. This is true across many credo-baptist traditions, but perhaps especially so among Baptists. How does our current practice square with Baptists of the past?" I enjoyed this little look at the way Baptists have traditionally considered age when it comes to baptism.
I enjoy articles like this one from Brian Najapfour. "Throughout my life as a pastor, I have collected reflections that I would like to share with my fellow ministers and with those who desire to be pastors someday. Here are twenty of those reflections…"
In a similar vein, here are 30 reasons from John Piper as to why it is a great thing to be a pastor.
"If I aspire to anything, it's to live a Psalm 1 life. Psalm 1 captivates me. It pictures two ways of life. There are only two ways, after all. We think there are more, but the choice before us is binary."
Kevin DeYoung: "Let me ask of those sitting in the pew, do you come to the word expectant each week, prepared in heart and mind to hear a great word from our great God? Are you convinced that what you need to hear from the pulpit is of far greater importance than what you need to see on your favorite television show, what you need to read from your favorite website, what you need to hear from your favorite podcast? Are you letting punditry shape you more than preaching?"
Decisions are difficult only because we are prone to misplace our comfort, to find our hope in a vision of the future more than in the one who holds the future.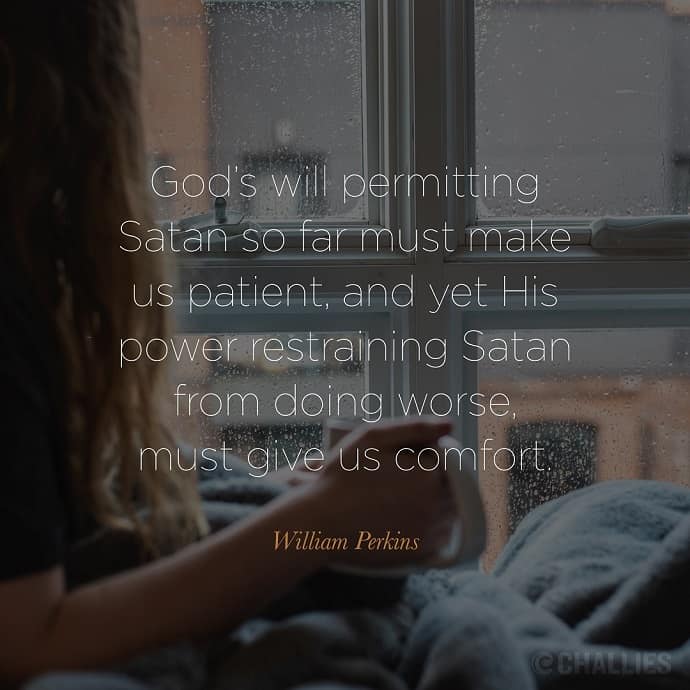 God's will permitting Satan so far must make us patient, and yet His power restraining Satan from doing worse, must give us comfort. —William Perkins