Crossway has just released the ESV Gospel Transformation Study Bible, and Westminster Books already has it on sale.
Today's Kindle deals include several books by Paul Washer as well as a few others.
I appreciate this look at social media debate and conversation. "Surely this speaks to the social media debates and debacles which have become so much a part of what Christians are saying and then restating via retweets and shares. Could there be room for those with influence to honestly audit whether they are truly contending for the gospel, or are seeking to defend their grouping? This is a crucial question, one which entails thorough self-examination and the risk of public renunciation of one's behaviour in the past." (See also 10 Suggestions for Christians When Talking About Social Justice.)
"These are not minor open-handed issues. The virgin birth, the death, resurrection and return of Christ, even the holy universal Church, are essential to the faith and have been throughout the ages. Let's not be foolish to think that our latest church experience, some new trendy philosophy or societies fluctuating tolerance levels could ever shake that." Does your church recite the creeds? I hope so!
In times like these, it is more vital than ever that we build solid foundations in the lives of believers. A great starting place is a careful cultivation of the songs we sing and a clear articulation of the theology behind our worship. That's why we started the Getty Music Worship Conference: Sing!, a conference for pastors, musicians and church leaders on deepening and reforming congregational worship. Come hear from speakers like John Piper, Tim Challies, John MacArthur, Joni Eareckson Tada, Jackie Hill Perry, Trip Lee, D.A. Carson, Mark Dever, Conrad Mbewe, H.B. Charles, and many others for three days of theology, artistry and congregational worship. Use code CHALLIES at registration to save 15% through March 28!
Randy Alcorn: "Yes, there are certainly times when the world slanders the church and Christians by sharing reports that are not true or unjust. But the fact is, the sexual sin of SOME pastors in SOME churches is a reality (and sadly, it's more than just a few pastors who are involved). This is at epidemic proportions, and epidemics are not solved by our saying, 'This is just another attempt to make the church look bad.'"
In this article, an autistic believer lets us into his experience of Christian life and community. "When I turned 18, I moved to California, got a grocery store job, and started wondering if I was a different species from everybody else. I felt like there was an invisible barrier between me and the world around me. I didn't understand how people wanted to bond and thought someone trying to fist bump me was punching me. Because of confusing events like this, I retreated into my own mind. I almost stopped communicating altogether, and just bagged groceries while off in another dimension."
I am not sure what I think of Bibles like these. "Chung, who studied graphic design in college, grew up in a Buddhist household but converted to Christianity in college. He met another Christian USC student at Intervarsity, also named Bryan Chung, who was studying animation and digital arts. The duo became friends, and eventually business partners. In 2016, they debuted their company Alabaster, a brand that has redesigned the Bible for the Instagram generation and expects to sell $900,000 worth of Bibles by the end of this year."
I enjoyed this, and wish I still had a grandmother to cook for me. "The idea for the project came from Gabriele's own grandmother. As Gabriele was preparing to leave Italy for his first international assignment as a documentary photographer, his grandmother was worried about what he would eat. She told him: 'Are you sure you want to go? What are you going to eat in Africa? And in China? You should stay at home. I can cook for you.' Gabriele replied, 'You know grandma? There are many grandmothers all over the world and I'm sure they will be happy to feed me and cook something special for me.'And this is the how the seed for the idea was planted in Gabriele's mind."
"Michael Haykin has one of the most interesting conversion stories I've ever heard. Born in 1953 in Birmingham, England, he embraced Marxism by age 14. Western culture in the 1960s seethed with anger, especially among Haykin's peers. But it that atmosphere alone did not drive him to embrace a two-fisted worldview committed to imposing intimidation and violence on innocent people. The culprits, actually, were Roman Catholicism and Christian hypocrisy."
It's a good time to be a false teacher and to espouse deadly doctrine. It seems that today's most brazen heretic will be granted a hearing and, in all likelihood, a book deal.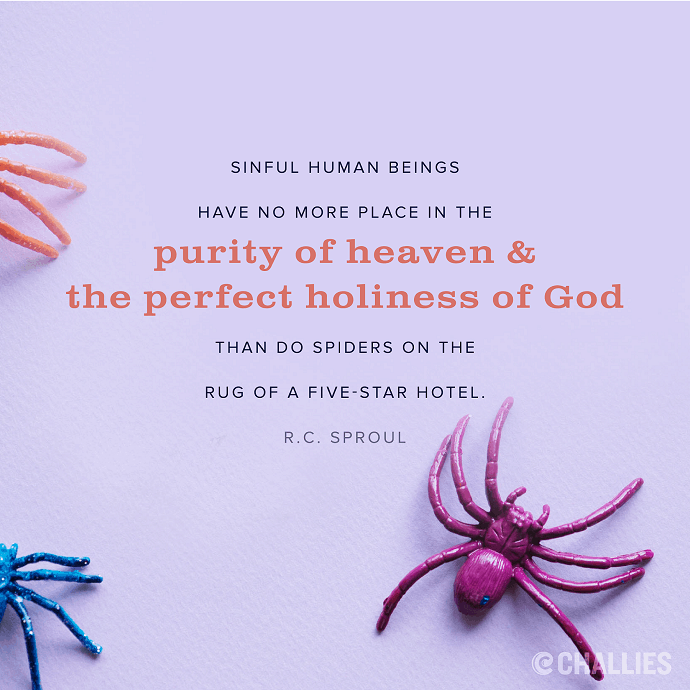 Sinful human beings have no more place in the purity of heaven and the perfect holiness of God than do spiders on the rug of a five-star hotel. —R.C. Sproul