Blessings to you today, my friends.
I collected a few interesting Kindle deals for you to look at.
(Yesterday on the blog: Living Selflessly with Your Wife)
This is great stuff from Jared Wilson.
"Though the world's idea of success might see our small days lacking, our good God operates very differently. He has a knack for using people lost in the credit roll. We can see this beautifully in the story of the Israelites in Ezra and Nehemiah."
Why did John the Baptist eat locusts and wild honey? You may not be shocked to know there was purpose behind it.
"Christian, are you mindful of the distinction between 'Today' and 'Tomorrow' in your evangelism? Do you have the same sense of urgency in your proclamation of the gospel? Are you guilty of preaching a take-it-or-leave-it gospel?"
Here's a wonderful illustration that your past does not need to predict your future.
Lara d'Entremont: "When God led me to my theological stance, he also placed me in a small community where no church holds to this theology—not even closely. My family and I are members at a church that is on the opposite side of the theological spectrum for us. We've had to keep 'the main thing the main thing' and remember that despite our differences, we each believe the same gospel and worship the same God."
Sometimes it best serves God's purposes to leave us in our weakness, for it is in this state that he can best prove himself to be our strength. Yet sometimes it best serves God's purposes to interrupt long suffering and reward long praying with a demonstration of his power.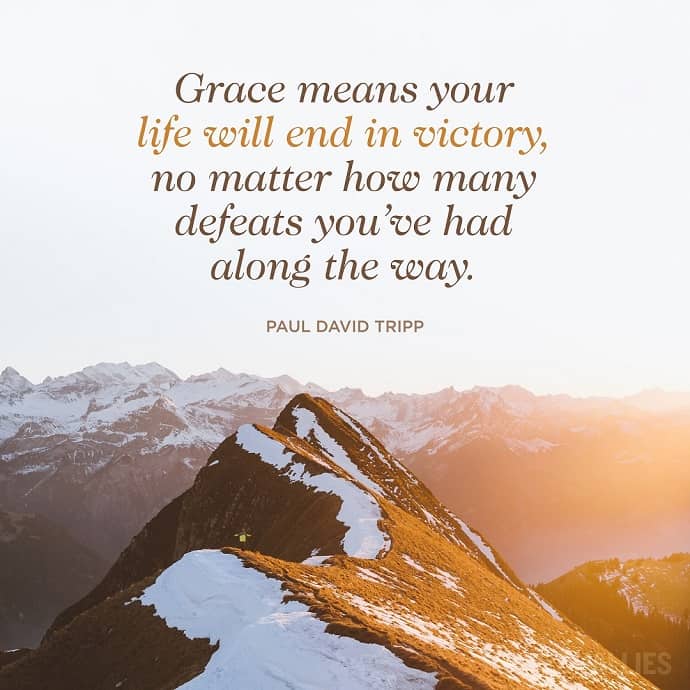 Grace means your life will end in victory, no matter how many defeats you've had along the way. —Paul David Tripp