One thing I attempt to emphasize in these daily A La Carte articles is variety—a variety of authors and a variety of subjects. The variety of subjects has been a challenge lately since, for good reason, we are flooded with articles on COVID-19. So bear with me as I share some of them (and a few on other topics as well).
The Kindle deals just don't stop, and there's another big collection today. (Plus, you can get a free one from Crossway.)
Logos users, you should vote for the next round of March Madness and look at the many deals so far.
(Yesterday on the blog: A Family Update in Strange Times)
Erik Raymond reminds us that, amidst all the change, some things remain fixed. (See also How to Get Through This Stronger Than Ever, The History of Pandemics Infographic, and Trusting God to Provide During a Financial Crisis. Meanwhile, The Workers Who Face the Greatest Coronavirus Risk may help direct your prayers.)
You may enjoy this poem by Paul Tripp.
Perhaps you get awkward or silent when an opportunity to share the gospel emerges, or you feel like you don't live a good enough life to tell people about a good God. Maybe you don't want to lose a job or friendships. But following Christ means loving those who don't follow Jesus, and that love includes sharing the gospel. (SPONSORED LINK)
Here's some of what John Owen taught about the all-important doctrine of justification by faith alone.
Jeremy Walker has been doing some thinking about the tension between social distancing and gathered worship. (For what it's worth, we are currently taking a different approach since Toronto is now under a state of emergency and worship gatherings are forbidden.)
Writing at his blog, Trevin Wax makes an interesting observation: "The contrast between the meat section and the candy aisle reminded me of an important truth: In a time of suffering or crisis, people go for what they need most, not what they like most."
Doug Eaton went back in CCM history to find some songs of comfort from Steven Curtis Chapman, Andrew Peterson, and others.
Tony Payne (of The Trellis and the Vine fame) has begun a new weekly podcast and newsletter. I've been enjoying it so far!
There is one point where we ought to fix our gaze in troubling circumstances. We will be both challenged and encouraged, if only we will look—if only we will look to our baptism.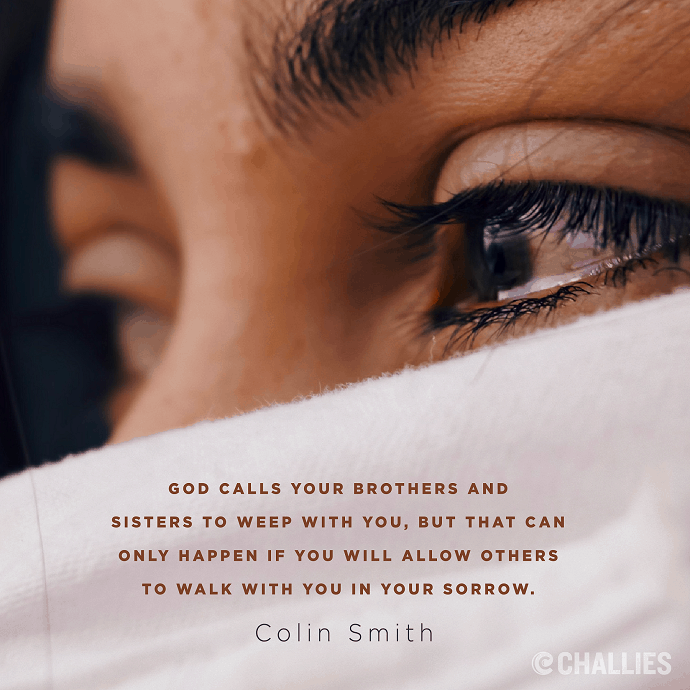 God calls your brothers and sisters to weep with you, but that can only happen if you will allow others to walk with you in your sorrow. —Colin Smith