Westminster Books is offering deals on resources to assist with Christmas outreach.
Today's Kindle deals include several resources on the psalms and a good book on purity.
Kevin DeYoung: "Brothers and sisters, it's OK to have an unarticulated thought. It's OK to go about our lives in quiet worship and obedience. It's OK to do your homework, read your Bible, raise your kids, and make your private thoughts prayers instead of posts. Alison Krauss was right: sometimes you say it best when you say nothing at all."
"The whole world is suffering together, you would think we would be unified by the the common thread that has destabilized us all. You would expect us to pull together, pool our resources, put our differences aside. But we are not in a Disney movie. It is unsettling but true that when pressures increase so do conflicts."
Here's counsel for pastors from Darryl Dash: "One of my pastoral heroes taught me this: celebrate the church you're privileged to pastor. Stand up on Sunday and communicate, genuinely, that it is the privilege of your life to be their pastor. Tell them that you've been waiting all week, and you can't believe that you get to be with them."
Writing for younger folk, Matthew Hall writes about tragedies and what they may accomplish in their lives. "It may be that God will use a present moment of suffering and loss to clarify your professional vocation. It may be that God is calling you to make a change in a relationship that you know is overdue. Most significantly, it may be that He is calling you to turn from a pattern of sin in repentance and to look to Him for fresh mercies and a new start. It may be that the Lord is drawing you to himself, calling you right now to turn from your sin and to put your confidence fully in Jesus Christ as your Lord and Savior."
There are some very interesting tidbits here about how Facebook (and other social media) have essentially become the new mainstream media.
Some people tend to over-emphasize Satan; some tend to ignore him altogether. It is better to find a proper "biblical proportion," as Nick Batzig explains here.
These are good questions. "Who are the people I am investing my time in and giving my attention to for the glory of God? What are things that are always there, that I can seek out anytime, and who are the people that I may only have been entrusted with for a short time that need the oil of my sacrifice the most?"
That postpartum body is the hidden, intimate story of their shared life. Its secrets are for them alone. Its skin is the pages and its scars the words of the stories that only they know.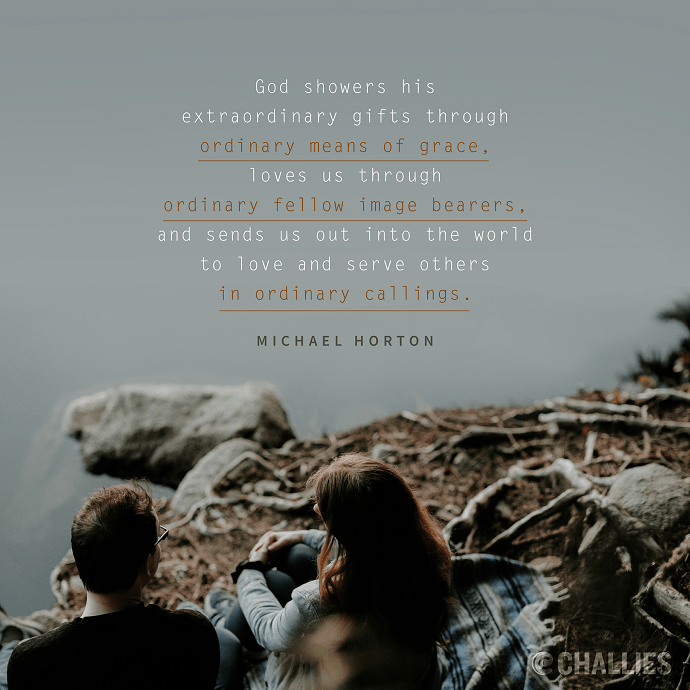 God showers his extraordinary gifts through ordinary means of grace, loves us through ordinary fellow image bearers, and sends us out into the world to love and serve others in ordinary callings. —Michael Horton