Today's Kindle deals include a whole stack of solid books.
This is another reminder that I've got a Spanish blog that is updated with articles and videos several times a week. Pass it on!
(Yesterday on the blog: EPIC: Switzerland)
Yesterday marked the release of The Statement on Social Justice & the Gospel which I know you'll benefit from reading.
Kevin DeYoung: "While guest preaching in a church several years ago I asked the senior pastor how long I should preach. He replied, 'Five minutes shorter than you think.' He wasn't trying to be mean. His advice was tongue-in-cheek. But it was also partly serious. He went on to add that he'd rarely heard a sermon that couldn't have been better by being five minutes shorter."
There is something so tragic, so human about this. "In the middle of it all, the entire, emotional ordeal that would come to define his career, in the midst of the literal storm that was drenching the Eastern Seaboard on the afternoon of Sept. 5, 2006, and the perfect, figurative one that was conspiring at that moment to make him the victim of the cruelest bit of circumstance the inherently cruel game of baseball could possibly produce — in the middle of all that, Brian Mazone, anxious, restless, bored, headed to the dugout to see the skies for himself." (Note: There are a couple of swear words in the article.)
The September issue of Tabletalk considers the Christian life as a life lived between two worlds. Many of the articles are free for you to read online.
"Theology has consequences. And bad theology always produces bad consequences. My friend Alex experienced those cruel consequences firsthand. Sadly, there aren't enough people correcting and rebuking this false teaching." It's amazing how false teaching can so quickly lead to cruelty.
I enjoyed this little look at how some of the best poets "of the air" have been the sons of pastors.
This looks like a promising series from the Cripplegate blog. "It is very important for Christians to be able to say this clearly: American slavery is clearly condemned by the Bible, without equivocation or qualification. The Bible is a perfect book in the sense that it contains all that is necessary for life and godliness, and this includes all of the ethical information needed to navigate the cultural complexities of this world in a way that honors both Christ and the image of God in man. The Bible does not condone American slavery and it certainly does not regulate it. It forbids it."
Why don't you take a bit of time to thank God for your labors. No matter what they are, they are evidence of his kindness and mercy toward you.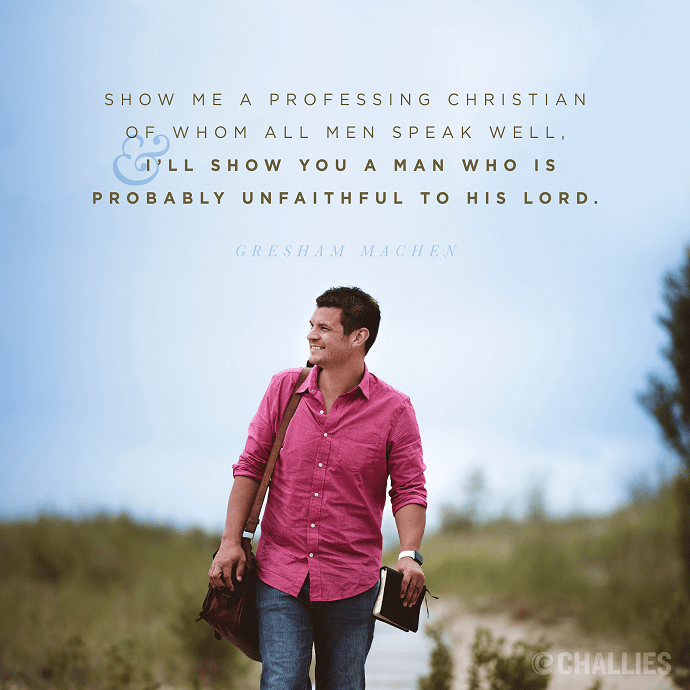 Show me a professing Christian of whom all men speak well, and I'll show you a man who is probably unfaithful to his Lord. —Gresham Machen