Good morning from Sydney, Australia, where I've stopped for just one night before heading back across the Pacific. It has been a good and successful journey, but I'm ready to be home!
Today's Kindle deals include a substantial collection from Crossway.
(Yesterday on the blog: Trusting God with Creation But Not Providence)
This is a sweet reflection by Peter Witkowski. "Our lives today will not be defined by our dreams, hopes, or expectations of what is to come (of what may never come) but will be defined by our faithful execution of the life and ministry God has given us in this moment. If we are faithfully serving God today in accordance with his Word and our calling and gifting, our lives are not a waste but rather the very definition of success."
"Every Sunday morning, they perch among us. Listen closely and you can hear their wings flapping overhead. Singing voices have quieted, the preacher mounts his summit, the book is laid open. As the people fidget in the pew, readying to hear God speak through a man, the crows and ravens stir in anticipation. Caws and muffled croaks murmur in the rafters. Some sound eerily like a chuckle."
I enjoyed this conversation with Alistair Begg as he addresses a number of important contemporary issues.
Core Christianity has put together three articles that address the three major Protestant views of baptism.
There is undoubtedly something to be said for these particular attributes.
Alan Shlemon has an answer for one of the defining questions of our times.
Easter is a day of acceptance, a day of completion…Yet despite the sufficiency of Christ's work, we can so easily slip back into an old mindset in which we become convinced there is still something left for us to do.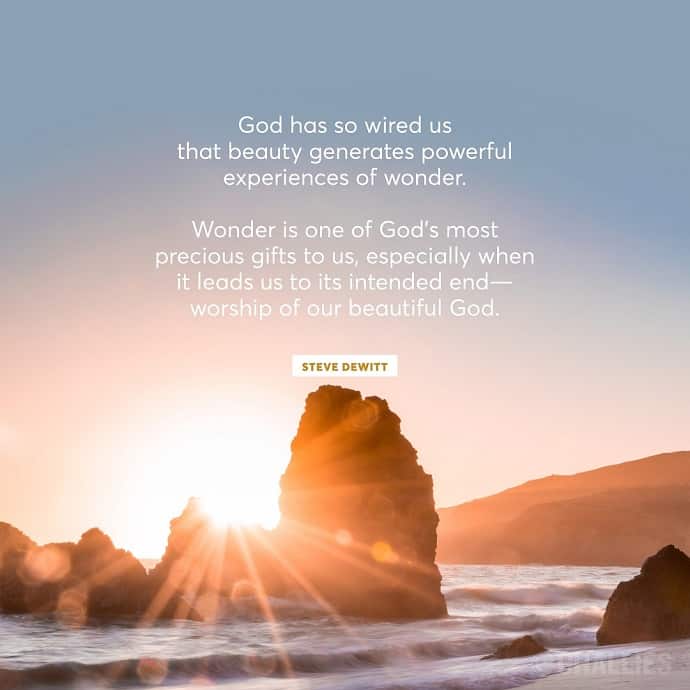 God has so wired us that beauty generates powerful experiences of wonder. Wonder is one of God's most precious gifts to us, especially when it leads us to its intended end—worship of our beautiful God. —Steve DeWitt