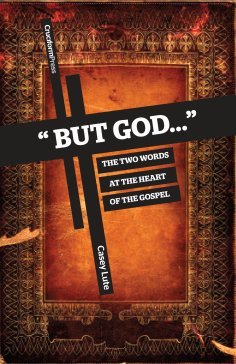 Cruciform Press is a different kind of publishing company in that we release one book each month, always on the first day of the month. And not only that, but we invite people to subscribe to our books so each month you can automatically receive that new book. We think it's a great model!
Cruciform's new book for May is titled But God: The Two Words at the Heart of the Gospel and it is written by Casey Lute. The great preacher and theologian James Montgomery Boice wrote that "If you understand those two words—'but God'—they will save your soul. If you recall them daily and live by them, they will transform your life completely." And that is what Lute seeks to do in this book–to make those words central to the Christian life.
I was interested (and encouraged) to see an early review of the book by blogger Louis Tullo. He said that But God "delivers what this young yet powerful publishing company is building a reputation for – books with rock-solid theology and packaged in an engaging and accessible form. Lute's word study sweeps over three central aspects of scripture – God's covenant with Israel, God's plan for salvation through Christ, and God's act of applying the work of Christ to believers – in a way that brings the sovereignty of God into powerful focus."
While I'm boasting about the book, let me point out something else Tullo says: "I am also an eBook subscriber of Cruciform Press. It is the most valuable $3.99 I spend monthly and would highly recommend subscribing."
If you would like to learn more about the book or about Cruciform Press, visit CruciformPress.com where you can find it in a variety of book and e-book formats (for as low a price as $3.99).