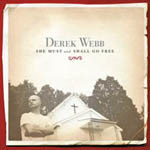 You have to admire Derek Webb for being a risk-taker. Not only did he take a risk by leaving one of the Christian music's most popular and successful bands, but he then released an album that directly challenges the church with plenty of potent, hard-hitting lyrics. And this is an industry that really does not like to be challenged.
Webb has crafted an album of superb quality. If you have heard Caedmon's Call you will have some idea of the style of music. It is rooted in folk but has strains of country and good old fashioned rock and roll mixed in. It is nicely produced without being overproduced. Listening to the album you have to believe that the songs would not sound much different in a live setting. Though the music is wonderful, that is not what sets this album apart. It is the depth and quality of the lyrics that sets this album above the crowd.
Webb did the majority of the song writing, though Sandra McCracken, his wife, wrote one and co-wrote another. Former band mate Aaron Tate (of Caedmon's Call) also contributed a song.
She Must And Shall Go Free is an album devoted to the church, "to who She is, how She should dress and what She was made for." The album begins with Nobody Loves Me, a song that speaks of the church and how She can not conform to what our culture may want her to become. Her very nature determines that She will always be at odds with the culture.
Wedding Dress is the center point of the album, both positionally (6th song of 11) and thematically. Webb has come under fire by some within the industry for his harsh language within the song, as the chorus repeatedly, though gently, uses the word "whore" to describe the church. A little Bible Study will, of course, show that this is simply a Biblical term used many times to describe the church.
I am so easily satisfied / By the call of lovers so less wild / That I would take a little cash / Over your very flesh and blood // Cause I am a whore I do confess / I put you on just like a wedding dress / And I run down the aisle
The country inspired Crooked Deep Down speaks of the depravity of the church and of the humans that comprise her. This song sets up perfectly the powerful closing ballad The Church which proclaims "If you love Me you will love the church."
Superbly written and wonderfully crafted, this album is undoubtedly one of the best the Christian music world has seen. The album is an experience and to be fully enjoyed, needs to be listened to from beginning to end. I wholeheartedly recommend this album. Christian music simply does not get much better than this!