This week's Free Stuff Fridays is sponsored by Ligonier Ministries. As you know, Ligonier also sponsored the blog this week.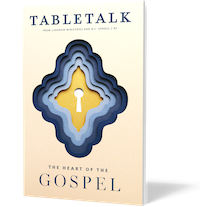 Request your free copy of Tabletalk magazine's special issue, The Heart of the Gospel, featuring contributions from Kevin DeYoung, Sinclair Ferguson, John MacArthur, R.C. Sproul, Joe Thorn, and many other trusted teachers and Christian leaders.
5 winners will also receive a free 12-month subscription to Tabletalk magazine.
To request your free copy of Tabletalk, click here. To enter to win a free 12-month subscription, fill out the form below:
Enter Here
Giveaway Rules: You may enter one time. As soon as the winners have been chosen, all names and addresses will be immediately and permanently erased. Winners will be notified by email. The giveaway closes Saturday at noon. If you are viewing this through email, click to visit my site and enter there.