One of the most common questions I get is this one: How many people participate in Free Stuff Fridays. That's closely guarded information, as it happens, but put it this way: if you play consistently over the long haul you are bound to win sooner or later. With at least 5 winners a week and 52 draws per year, that means at least 260 people a year win something. Sooner or later the random draw will go your way! Maybe in the new year I'll see if I can convince the sponsors to come up with a greater number of prizes…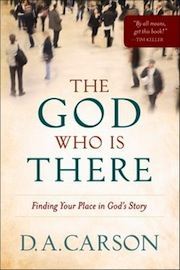 This week's edition of Free Stuff Fridays is sponsored by CBD Reformed. They are givine away 5 prizes, each of which will contain the following 3 great books:
Ministries of Mercy by Timothy Keller – Retail price $12.99
The Cross-Centered Life by C.J. Mahaney – Retail price $9.99
The God Who Is There by D.A. Carson – Retail price – $16.99
That's 3 great books by 3 really good authors.
Additionally, CBD Reformed is offering a 4-day sale (December 17 – 20) on the following three products. Anyone is free to take advantage of these deals:
There are 5 prizes to win, so get your name in ASAP.
Giveaway Rules: You may only enter the draw once. Simply fill out your name and email address to enter the draw. As soon as the winners have been chosen, all names and addresses will be immediately and permanently erased. Winners will be notified by email. The giveaway closes Saturday at noon.