This week's Free Stuff Fridays is sponsored by Songs for Saplings. They are giving away 5 prizes, each of which will contain all 5 of their CDs. Songs for Saplings creates lively, fun songs that deliver the deepest of Biblical truth in a format that children love to listen to. The music is not typical kid's music, but appeals to adults as well. I find myself enjoying the music when we play it around our house or in the car.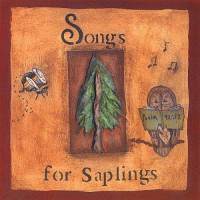 Songs for Saplings is a ministry of the Dirksen family out of Portland, Oregon. The songs are written and performed by Dana Dirksen, and her 6 children, but don't let the homey idea put you off, this is really good music, with great performances, musicians, and top quality production.
They have two series of music. The first series, "Songs for Saplings" is suitable for toddlers on up, and is the ABCs and 123s put to music, each song with a scripture verse. The second, "Questions with Answers" is based on the Westminster Shorter Catechism. There are three CDs so far (covering the first 64 questions of the Catechism) and CD #4 is in the works now. You can listen to all the music free at music.songsforsaplings.com.
The Dirksens are giving away 5 sets of all 5 CDs, so go ahead and enter.
Giveaway Rules: You may only enter the draw once. Simply fill out your name and email address to enter the draw. As soon as the winners have been chosen, all names and addresses will be immediately and permanently erased. Winners will be notified by email. The giveaway closes Saturday at noon.
Note: If you are reading via RSS or email, you may need to click through to see the form.