This week's Free Stuff Fridays is sponsored by CBD Reformed, a company that regularly sponsors these giveaways. This week they are offering 5 prizes, each of which contains the following 3 books:
Bonhoeffer: Pastor, Martyr, Prophet, Spy by Eric Metaxas – Retail price $29.99
Doctrine: What Christians Should Believe by Mark Driscoll & Gerry Breshears – Retail Price $22.99
Don't Waste Your Life by John Piper – Retail Price $13.99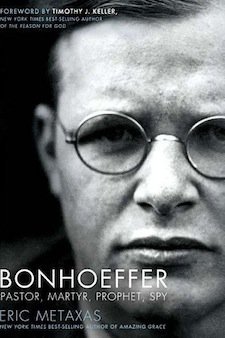 Here's a bit of information about the one that may interest you the most. "Bonhoeffer: Pastor, Martyr, Prophet, Spy is the first fully comprehensive biography of Bonhoeffer in more than 40 years. Written by best-selling NY Times author Eric Metaxes, he presents both sides of Bonhoeffer's life, as theologian and as conspirator drawing them together to tell a searing story of incredible moral courage in the face of monstrous evil."
"Presenting a deeply moving narrative, using previously unavailable documents–including personal letters, detailed journal entries, and first-hand personal accounts, Metaxas reveals dimensions of Bonhoeffer's life and theology never before seen. Furthermore, Metaxas presents the fullest accounting of Bonhoeffer's heart-wrenching 1939 decision to leave the safety of America for the lion's den of Hitler's Germany, and using extended excerpts from love letters and coded messages written to and from Bonhoeffer's Cell 92, we are allowed to see for the first time the full story of Bonhoeffer's passionate and tragic romance."
In addition, CBD Reformed is offering a 4-day sale (August 26 – August 29) on the following three products:
Anyone can take advantage of those sales, regardless of whether you enter the giveaway and regardless of whether you win the giveaway.
Giveaway Rules: You may only enter the draw once. Simply fill out your name and email address to enter the draw. As soon as the winners have been chosen, all names and addresses will be immediately and permanently erased. Winners will be notified by email. The giveaway closes Saturday at noon.
Note: If you are reading via RSS or email, you may need to click through to see the form.