This week's Free Stuff Friday is sponsored by Christian Focus Publications. They are offering 5 sets of a wonderful new printing of 9 Puritan classics plus a brand new book from J. I. Packer.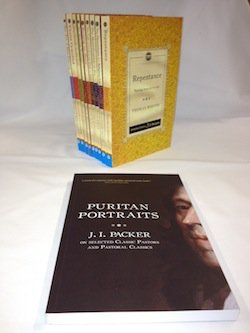 The 9 books set includes Henry Scougal's Life of God in the Soul of Man, John Owen on The Mortification of Sin, Thomas Boston's The Art of Man-Fishing, Crook in the Lot and Repentance, Stephen Charnock's Christ Crucified, John Flavel's Keeping the Heart, John Bunyan's The Heavenly Footman and Matthew Henry's The Pleasantness of a Religious Life.
Not only do you get a beautifully produced fresh printing of the original work in a clear, readable typeface and on good quality paper, but you also have J. I. Packer's helpful and informative introductions to each book to guide you.
In addition to all this, you will receive the new book from J. I. Packer, Puritan Portraits which takes you further into the Puritan legacy and focuses on key men and their writings from this blessed era.
The writings of the Puritans continue to profoundly reward readers and here J. I. Packer brings them alive in an inspiring way to encourage a new generation to experience their delights.
"With characteristic ease of style, clarity of thought, and theological insight, Dr Packer introduces us to the life and thought of seven of the all-time masters of what one of them called 'the life of God in the soul of man.' Puritan Guides to Glory is a treat for anyone with healthy spiritual taste buds."
Sinclair B. Ferguson ~ Senior Minister, First Presbyterian Church, Columbia, South Carolina

"When I've been asked to recommend a book on the Puritans, J. I. Packer's A Quest for Godliness typically came first to mind. With the release of Puritan Portraits, a fresh and spiritually invigorating survey of several key Puritan pastors and theologians, I can now point to a second volume that is must reading. "Puritan Christianity," says Packer, "was serious business." So, too, must ours be, and there is simply no better tour guide for exploring Puritan faith and spirituality than J. I. Packer. Highly recommended!"
Sam Storms ~ Pastor of Bridgeway Church, Oklahoma City, Oklahoma

"Like many, I first met the Puritans through the writings of Dr Packer and thus owe him a debt of gratitude. In this volume he has once again excelled: here are thoughtful introductions to some key Puritan thinkers and their works, along with a Puritan manifesto for today's pastors. This is vintage Packer. In an age of trendy fluff, here is solid food for the church and for the soul."
Carl R. Trueman ~ Paul Woolley Professor of Historical Theology and Church History, Westminster Theological Seminary, Philadelphia, Pennsylvania
Giveaway Rules: You may only enter the draw once. Simply fill out your name and email address to enter the draw. As soon as the winners have been chosen, all names and addresses will be immediately and permanently erased. Winners will be notified by email. The giveaway closes Saturday at noon.