Another Friday brings another round of Free Stuff Fridays. This week's sponsor is Crossway, a company that needs little introduction around these parts, I'm sure. They are offering a bundle containing several of their newer titles: Feelings and Faith, Counsel from the Cross, and Unpacking Forgiveness.
Unpacking Forgiveness "examines God's Word to form a sound theology of forgiveness, helping readers move beyond the wounds and baggage of bitterness, disagreements, and broken relationships. Engaging and accessible, it is a helpful resource for pastors, Christian counselors, and anyone who has been burned and struggles to extend forgiveness."
Counsel from the Cross "demonstrates the 'why' and the 'how' of consistently biblical, gospel-centric counseling, whether in the pastor's study or over coffee with a friend. With the evermore apparent failure of modern psychotherapies and a discomfort with pharmacological strategies, many churches are reaffirming the sufficiency and power of the Scriptures to change lives."
Feelings and Faith "weaves together biblical exposition and practical application to demonstrate how emotions relate to the Christian life. Brian Borgman draws from his extensive biblical knowledge and his pastoral experience to help readers understand both divine and human emotions. After laying a biblical foundation he moves on to practical application, focusing on how Christians can put to death ungodly emotional displays and also cultivate godly emotions."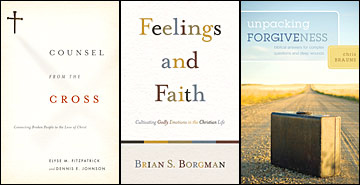 Thanks to Crossway for sponsoring this giveaway!
Rules: You may only enter the draw once. Simply fill out your name and email address to enter the draw. As soon as the winners have been chosen, all names and addresses will be immediately and permanently erased. Winners will be notified by email. The giveaway closes Saturday at noon.
(Giveaway is now closed)