With a new Friday comes a new edition of Free Stuff Fridays. This week's sponsors are White Horse Inn and Modern Reformation. This week five winners will each be sent a prize package that contains:
Too Good to Be True by Michael Horton (Signed by the author)
Christless Christianity DVD
A one-year subscription to Modern Reformation magazine.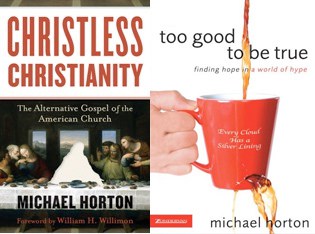 Here is what the publisher says about Too Good to Be True: "In a world of hype, we may buy into the idea that through Jesus, we'll be healthier and wealthier as well as wiser. So what happens when we become ill, or depressed, or bankrupt? Did we do something wrong? Has God abandoned us? As a child, Michael Horton would run up the down escalator, trying to beat it to the top. As Christians, he notes, we sometimes seek God the same way, believing we can climb to him under our own steam. But we can't, which is why we are blessed that Jesus descends to us, especially during times of trial. In Too Good to Be True, Horton exposes the pop culture that sells Jesus like a product for health and happiness and reminds us that our lives often lead us on difficult routes we must follow by faith. This book offers a series of powerful readings that demonstrate how, through every type of earthly difficulty, our Father keeps his promises from Scripture and works all things together for our good."
Rules: You may only enter the draw once. Simply fill out your name and email address to enter the draw. As soon as the winners have been chosen, all names and addresses will be immediately and permanently erased. Winners will be notified by email. The giveaway closes tonight at midnight.