It has been quite a week. I finally got home from Savannah only to find that Aileen had succumbed to the flu that all three of the kids had while I was gone. While I was sitting in a Savannah beach house, she was cleaning up messes (time and time again). So I am mostly going to have to take care of things around the house today. But I did manage to get together this week's Free Stuff Fridays post.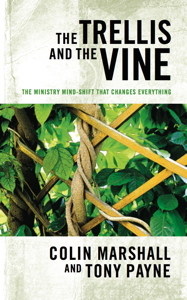 This week's sponsor is Matthias Media. They have offered five prizes, each of which will contain one copy of The Trellis and the Vine by Colin Marshall and Tony Payne and one copy of Mission Minded by Peter Bolt. I recently reviewed The Trellis and the Vine and gave it my highest recommendation. It is a ministry-changing kind of book. I wrote "The Trellis and the Vine, a book I am sure I will read again very soon, helped me to see, more clearly than ever I think, how much of what passes for ministry within a church is really "mere" trellis work. Of course such work is important but it can so easily taken on undue prominence and become the heart of the church's work. Meanwhile, the vine, the people, suffer neglect. In the past I have been involved in "trellis" churches and can attest to the grave danger they pose. This book has given me so much to think about, so much to reflect upon."
You can read my review here.
Here is Mark Dever's take on it:
Rules: You may only enter the draw once. Simply fill out your name and email address to enter the draw. As soon as the winners have been chosen, all names and addresses will be immediately and permanently erased. Winners will be notified by email. The giveaway closes Saturday at noon.