It is Friday and that means it is time for another round of Free Stuff Fridays. This week's sponsor is Sojourn Music. Sojourn describes itself in this way: "New songs for modern missional worship, rich in Christian teaching and contextualized in modern culture. Contemporary hymns, psalms, songs of lament and praise written by members of the Louisville, KY-based Sojourn Community." Sojourn is currently putting the final touches on a new album, "Over the Grave: The Hymns of Isaac Watts." In the meantime, though, we are giving away five Sojourn prize packs. Each prize consists of:
Three CDs (Before the Throne, Advent Songs, and These Things I Remember), along with Pastor Daddy (a children's book) and the Before the Throne devotional.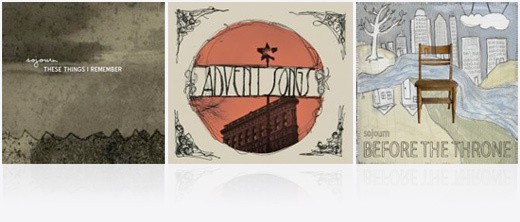 I am an unabashed fan of many of the Sojourn songs. Some of my favorites are "We Are Listening," "In the Shadow of the Glorious Cross," "God Is With Us" and "Hosanna in the Highest." They also have a really nice version of "Joy to the World" that uses an original melody.
Rules: You may only enter the draw once. Simply fill out your name and email address to enter the draw. As soon as the winners have been chosen, all names and addresses will be immediately and permanently erased. The giveaway closes tonight at midnight.