I'm on my way to Chattanooga, Tennessee today, to spend a bit of time with my family. Next week I'll head to Orlando and bring live updates from the Ligonier Ministries National Conference. But for today we've got some free stuff to give away.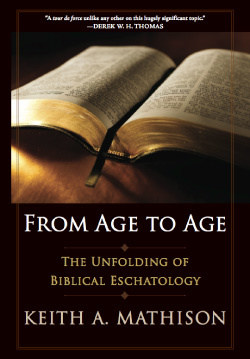 This week's sponsor is P&R Publishing. They have just released Keith Mathison's From Age to Age: The Unfolding of Biblical Eschatology. " Using the narrative method of biblical theology, From Age to Age traces the eschatological themes of Scripture from Genesis to Revelation, emphasizing how each book of the Bible develops these themes that culminate in the coming of Christ and showing how individual texts fit into the overarching picture." Derek Thomas says it is "Meticulously comprehensive, a veritable compendium of biblical theology from Genesis to Revelation examining every possible nuance of eschatological insight, breathtaking in its scope, Mathison has provided us with an invaluable reference tool. A tour de force unlike any other on this hugely significant topic."
This is a huge 832 page hardcover book! There are five copies to win. Simply enter your name and email address below for your chance to win.
Rules: You may only enter the draw once. Simply fill out your name and email address to enter the draw. As soon as the winners have been chosen, all names and addresses will be immediately and permanently erased. The giveaway closes tonight and midnight.