This week's sponsor is Crossway Books. Crossway is offering five prizes, each of which will include three books by Sam Storms: More Precious than Gold, Hope of Glory and To the One Who Conquers. These are the three titles in a series of devotional books. One focuses on Colossians, one on Revelation 2-3 and the other on the Psalms.
In More Precious Than Gold, Storms combines years of life experience and his biblical and theological training to bring readers 50 brief, daily meditations that are both stylistically accessible and theologically substantive. Each meditation includes a historical or theological reflection on the psalm in context, a story that brings it alive, and creative tools to support the key idea. Storms also interweaves the words of such luminaries as Charles Spurgeon, Jonathan Edwards, and John Piper to help readers better understand the concepts that are featured throughout Psalms: worship, prayer, joy, forgiveness, steadfast love, mercy, sin's consequences, the law of the Lord, and our relationship with our enemies.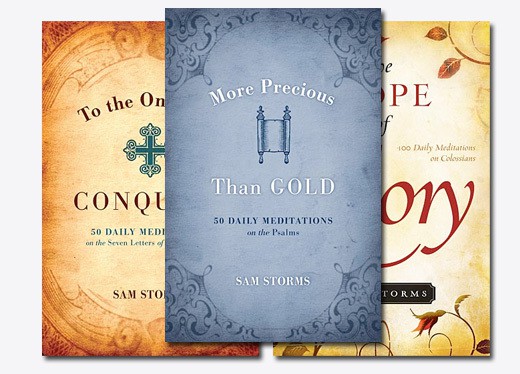 Rules: You may only enter once. Simply fill out your name and email address to enter the draw. As soon as the winners have been chosen, all names and addresses will be immediately and permanently erased. The giveaway closes tonight at midnight.