This week's Free Stuff Fridays is in all Stephen Miller affair. Stephen serves as worship leader at The Journey Church in St. Louis and has recently released a new album and a new book. There will be 5 winners this week and all 5 of those winners will receive a copy of each:
Worship Leaders, We Are Not Rock Stars (the book)
All Hail the King (the CD)
In Worship Leaders, We Are Not Rock Stars, Miller "exhorts his fellow worship leaders to make Jesus the center of all their efforts. He teaches how to do this with scripture, teaching, prayer, story, and song. In all, Miller's call for worship leaders is to lead worship, whole-hearted and whole-minded exalting of God, rather than making a spectacle out of it." (learn more)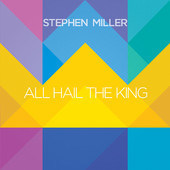 All Hail the King is a collection of songs–some new and some old–set to contemporary worship music. Songs you may recognize include "Crown Him with Many Crowns" and "O for a Thousand Tongues." (learn more)
Giveaway Rules: You may enter one time. As soon as the winners have been chosen, all names and addresses will be immediately and permanently erased. Winners will be notified by email. The giveaway closes Saturday at noon.