This week's sponsor of Free Stuff Friday is Ligonier Ministries; you know them well, I'm sure. And today they are offering a great prize package that contains stuff to read and stuff to listen to–they've got a new book and an old classic, a classic teaching series and a series of new conference messages. All-in-all it's a set of resources that will draw you to the holiness of God.
They are offering 5 prize packages, each of which contains:
Holy, Holy, Holy is a brand new book; the winners of this giveaway will be about the first people to get their hands on it. "Holy, Holy, Holy: Proclaiming the Perfections of God offers a corrective. Here, the holiness of God is defined, explored, and praised by a lineup of leading evangelical pastors and scholars, who show how it affects our worship, doctrine, and personal walks with Christ. Contributors include Thabiti Anyabwile, Alistair Begg, Don Carson, Ligon Duncan, Sinclair Ferguson, Robert Godfrey, Steven J. Lawson, Albert Mohler, R.C. Sproul, R.C. Sproul Jr., and Derek Thomas."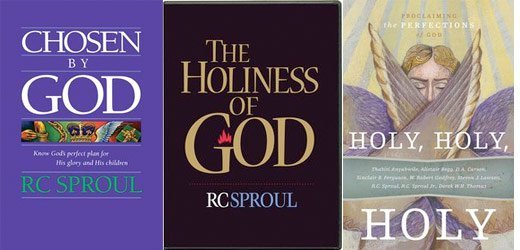 Rules: You may only enter the draw once. Simply fill out your name and email address to enter the draw. As soon as the winners have been chosen, all names and addresses will be immediately and permanently erased. Winners will be notified by email. The giveaway closes Saturday at noon.