This week's Free Stuff Fridays is sponsored by Finalweb who was also the blog's sponsor for the week. Finalweb creates excellent websites for Christian ministries and churches, while seamlessly integrating advanced features like livestreaming and mobile apps. Their unique system allows your church to create its own site without the need for any programming knowledge or experience. That site can be updated as often as necessary using nothing more than a web browser. This makes it more than a website but a powerful management tool to help your organization thrive. You can learn more here.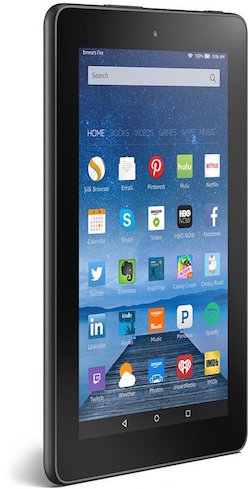 As for the giveaway, there will be 5 winners this week and each of them will receive a Kindle Fire tablet. This device is designed for both reading and entertainment and does each of them well. They are giving away the 7″ model. One interesting feature of this new model is called "Blue Shade." It works behind the scenes to automatically adjust and optimize the backlight for a more comfortable nighttime reading experience. Simply tap Blue Shade on the quick actions menu to turn on this feature and enjoy your favorite book, news article, app, or any other nighttime activity without straining your eyes. This also reduces the blue light that has been associated with insomnia.
Please note that this prize can only be shipped to North American addresses.
There are 5 prizes to win, so sign up now!
Enter Here
Giveaway Rules: You may enter one time. As soon as the winners have been chosen, all names and addresses will be immediately and permanently erased. Winners will be notified by email. The giveaway closes Saturday at noon. If you are viewing this through email, click to visit my site and enter there.