This week's giveaway is sponsored by Westminster Theological Seminary. Three people will win a set of resources for a 10-person Bible study on how to read all of Scripture in light of Christ. Each winner will receive a copy of the ESV Gospel Transformation Bible, a copy of Vern Poythress's Reading the Word of God in the Presence of God, and ten copies of Seeing Christ in All of Scripture, a book by Westminster faculty.
ESV Gospel Transformation Bible
The ESV Gospel Transformation Bible features all-new book introductions and gospel-illuminating notes written by a team of over 50 outstanding pastors and scholars. This specially prepared material outlines passage-by-passage God's redemptive purposes of grace that echo all through Scripture and culminate in Christ.
Reading the Word of God in the Presence of God: A Handbook for Biblical Interpretation
Every time we read the Bible, we're reading in the presence of God. How should this incredible truth shape how we read? Moving quickly from principle to practice, Vern Poythress helps us rethink how we interpret the Bible by showing us the implications of entering into God's presence as we study.
Seeing Christ in All of Scripture
Interpreting the Bible can be a challenge. Seeing Christ in All of Scripture is designed to help people understand the beautiful, Christ-centered structure of the Bible. This concise compilation of essays by Westminster faculty provides a unique and practical tool for personal or group Bible study.
Click here for a free PDF of Seeing Christ in All of Scripture to preview the book.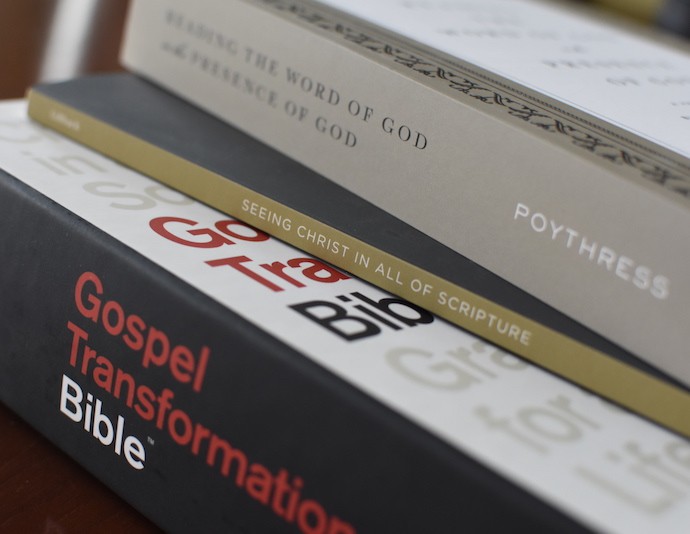 Enter Here
Giveaway Rules: You may enter one time. As soon as the winners have been chosen, all names and addresses will be immediately and permanently erased. Winners will be notified by email. The giveaway closes Saturday at noon. If you are viewing this through email, click to visit my site and enter there.