This week's Free Stuff Fridays is sponsored by Zondervan Academic, who also sponsored the blog this week.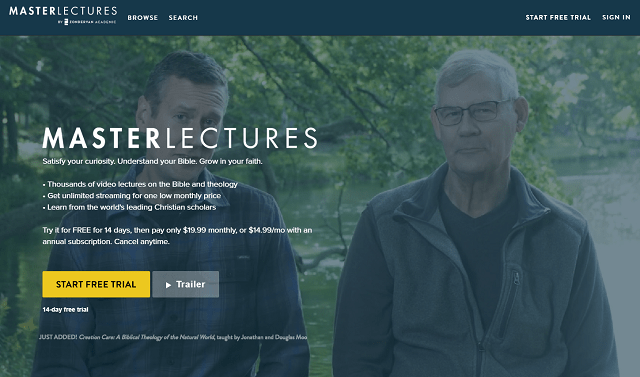 They are giving away 5 copies of Paul M. Gould's new book and video lecture series, Cultural Apologetics and Cultural Apologetics Video Lectures.
Western culture is disenchanted, it no longer sees the world as it truly is. Instead of seeing reality as sacred and beautiful, it is often viewed as mundane and ordinary. In Cultural Apologetics and Cultural Apologetics Video Lectures author Paul Gould offers a fresh model for cultural engagement, giving creative insights and practical steps to help you share a vision of the Christian faith that is both reasonable and desirable.
MasterLectures gives you unlimited access to thousands of video lectures on the Bible and theology from today's top Christian scholars. All Challies readers can sign up for a 14-day FREE trial today! Learn more about MasterLectures here.
ENTER THE DRAW
All you need to do to enter the draw is to drop your name and email address in the form below. (If you receive this by email, you will need to visit challies.com to enter.)
Giveaway Rules: You may enter one time. As soon as the winners have been chosen, all names and addresses will be immediately and permanently erased. Winners will be notified by email. The giveaway closes Saturday at noon.