I have been enjoying doing some special giveaways recently, and today seemed like the kind of day that I should do another one. And I think you'll like it. Today I am giving away a brand spankin' new Kindle.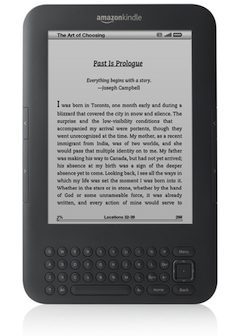 The prize is a 3rd generation Kindle 3G (which is the latest generation…). It will come pre-loaded with copies of all 3 of my books: The Discipline of Spiritual Discernment, Sexual Detox and The Next Story. That will leave you room for 3,497 books of your own.
Kindle is Amazon's bestselling product, the most-gifted, the most-wished-for and the one with the most 5-star reviews. Here's what it offers:
All-New, High-Contrast E Ink Screen – 50% better contrast with latest E Ink Pearl technology
Read in Bright Sunlight – No glare
New and Improved Fonts – New crisper, darker fonts
New Sleek Design – 21% smaller body while keeping the same 6″ size reading area
17% Lighter – Only 8.7 ounces, weighs less than a paperback
Battery Life of One Month – A single charge lasts up to one month with wireless off
Double the Storage – Up to 3,500 books
Books in 60 Seconds – Download books anytime, anywhere
Free 3G Wireless – No monthly payments, no annual contracts
Built-In Wi-Fi – In addition to the 3G wireless, you can connect to Wi-Fi hotspots
Copies of all 3 of my books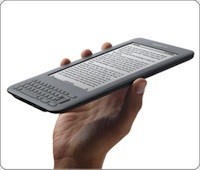 For this giveaway I am using PunchTab, some interesting new software I have been trying out (and thanks to PunchTab for sponsoring the giveaway and providing the giveaway widget). For the time being this widget relies upon a Facebook account, so you'll need to have a Facebook account to participate. Once you've clicked the entry button, you'll have the opportunity to increase your chances of winning by leaving a comment, by mentioning the giveaway on Twitter, and so on.
So here you go. Enjoy!
NOTE: THIS GIVEAWAY IS NOW CLOSED. THE WINNER WAS LISA FERNANDEZ.