This sponsored post was prepared by Missional Wear.
With only just over a month to prepare, the clock is ticking for you to find that perfect gift for everyone on your list. My friends at Missional Wear have been hard at work creating theology infused goods that you will be proud to gift to your loved ones this holiday season. The 2017 Reformed Gift Guide is your roadmap to shopping success for the theologian, pastor, student, or just plain tough to shop for man in your life. Here are some of the best ideas that made the top of this year's list…
1. Apparel: The Five Solas Tee
The Five Solas of the Reformation tee is the shirt to have this season. This special edition tee design will not be around forever – so don't miss out. Missional Wear is home to the largest selection of wearable theology goods anywhere. The entire catalog of popular apparel designs is now available with tri-blend options if you prefer your threads to be ultra soft and fashionable. See all of the designs available on tees, long sleeve, hoodies, sweatshirts and more!
2. 20 Ounce Insulated Tumbler
The 20 and 30 ounce premium tumblers are double wall insulated and vacuum sealed to efficiently keep your beverage hot or cold. The 20 ounce has become the most popular, especially ideal for the coffee connoisseur on the go.
3. Premium Coaster Set
The classic look and styling of this coaster set easily blends with any interior space. An elegant item with a practical purpose. The attention to detail and high-quality look were not lost on this cost effective gift option. The sets feature the Five Solas or your favorite theologians available in an array of color options.
4. Journals
This brand new series of hardcover journals will be a handsome everyday companion to the writer, artist, doodler or to-do list keeper. Customize with your choice of color and design to create a gift that is truly unique and special. Both the engraved hard or soft cover Moleskine journals will be admired and are a customer top pick! Choose your perfect journal combination here.
5. Bible Covers
This year we celebrate the legacy of Martin Luther and his unwavering commitment to sola scriptura. When challenged to recant publicly his beliefs, he stood firm and declared, "my conscience is held captive to the word of God." This logo pairs perfectly with our collection of Bible covers. The workmanship of each cover is sure to impress. Plus, it's just spacious enough to handle even the meatiest of study Bibles!
6. Coffee Mugs
No matter what type of coffee you drink, what region of the world you prefer that coffee to be grown, or what method you use to brew it, all coffee drinkers have one thing in common: They all need something to drink that coffee out of. And there are no tiny sippy cups here, enjoy your morning roast in these one of a kind 15 ounce bistro mugs. Browse the entire collection.
7. Poster Print
It is not a huge surprise that our most popular shirt is also our top-selling poster print. The Five Solas of the Reformation Poster joins other classics such as The Romans Poster and The Resolutions Poster to make a bold statement in any room. Each poster is printed on heavy latex-infused matte stock with eco-solvent inks. Redeem that boring wall with one of these beautiful and elegant poster prints. See all the prints here.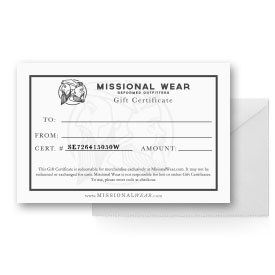 Still Not Sure?
There are so many great products that it can sometimes be hard to decide. It can be a bit overwhelming, we know. If you are still stuck after looking over the entire catalog of products it may be best to pick up a gift certificate. If that is what you need, we offer both digital and physical certificates. For a limited time readers can receive $5 off a $50 purchase using code "CHALLIES".